Segment 4: Gorges, Peaks & Waterfalls
Black Mountain Campground to Beacon Heights


Distance: 75.2 miles (73 miles are on trails or abandoned logging roads and less than 3 miles are on gravel roads)

Difficulty: to
The section hiking down and out of Linville Gorge from the Linville River is strenuous.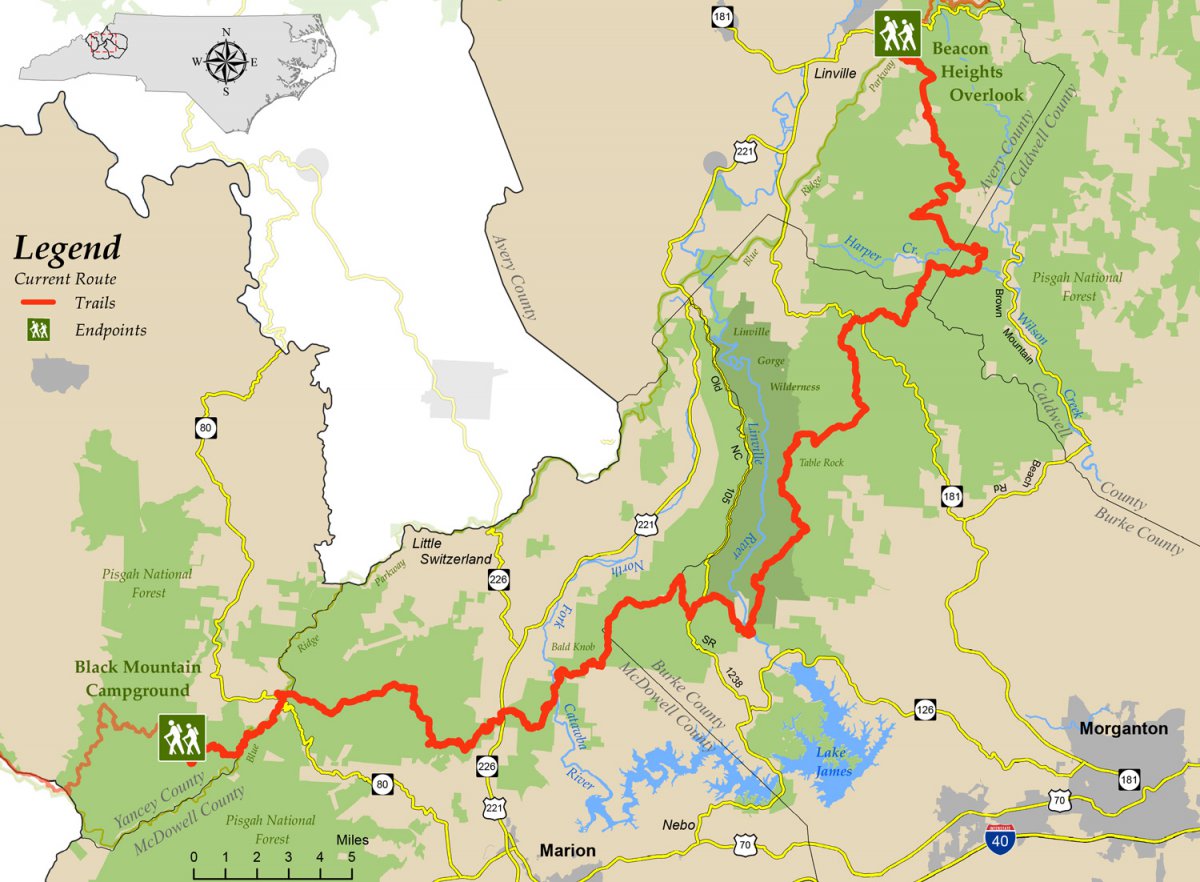 By Robert Trawick
Hikers on this 75-mile segment through the Pisgah National Forest follow forest ridgelines, climb peaks to dramatic views, forge rivers, and meander along creeks that lead to stunning waterfalls and crashing whitewater. The segment is very remote, with long departures from roads and little access to amenities.
Traveling eastbound, the trail leaves Black Mountain Campground on the South Toe River and climbs gradually to the Blue Ridge Parkway (BRP), at the Continental Divide to the Tennessee Valley. It travels through mostly mature forest in the Pisgah National Forest or along the BRP.
The trail then descends to the North Fork of the Catawba River and climbs Bald and Dobson Knobs, among the most challenging ascents on the entire MST. From these heights, hikers see some of the most spectacular views of the region, from Lake James to Little Switzerland.
The next part of the trail offers views of the impressive Linville Gorge, as it descends to the Linville River on the west side then climbs to the eastern lip of the gorge at Shortoff Mountain and follows its eastern edge. Because this popular part of the trail has had frequent forest fires, there are stretches with little water or shade from the Linville River until descending again at Table Rock.
The trail then dips into remote wild-trout waters located in areas nominated for wilderness status. It follows tributaries in the western Wilson Creek basin to the confluence of Harper and Raider Camp Creeks and then climbs along Harper Creek before hopping over a ridge to Lost Cove Creek and Gragg Prong. The trail follows these streams until it nears the BRP at Grandmother Mountain and Beacon Heights. Much of this part of the trail travels alongside crashing wild streams and rocky outcrops, which also offer picturesque cascades and waterfalls. This area was heavily timbered in the early 20th century and the trail often follows the old roads and railroad beds. One may look for traces of once vigorous human activity among the resurgent timber, in the sagging banks of these passages, and in the hints of washed-out and vanished bridges and settlements and wonder how nature has reclaimed these valleys and coves.
If you are interested in an overnight backpacking trip, this segment may be divided into 4 sections of roughly similar lengths. The first 19.6-mile section is between Black Mountain Campground and US 221 at the Forest Service Work Center at Woodlawn. The second 13.6-mile section is between US 221 at Woodlawn Work Center and Old NC 105. The third 19.5-mile section is between Old NC 105 and NC 181. The fourth 22.5-mile section is between NC 181 and Beacon Heights on the BRP.
Spectacular views of Linville Gorge, which drops 2,000 feet into the valleys below the ridges, as well as surrounding areas with views of Lake Tahoma, Lake James, and Pisgah National Forest
Impressive promontories such as Dobson and Bald Knobs, the Pinnacle, the Chimneys, Shortoff Mountain, Table Rock, and Hawksbill
Several waterfalls including Steels Creek, South Harper, Harper, Hunt Fish, and Gragg Prong Falls
Segment 4 Eastbound Elevation Profile