Segment 11: Neuse River Greenways & the Let'Lones
Falls Lake Dam to Howell Woods Environmental Learning Center




Distance: 66.7 miles (36.0 greenway or similar paved multi-use path, 30.7 road)

Difficulty:

Trail Communities: Raleigh, Clayton, Smithfield

Check Trail Updates before starting your hike. To receive email notifications of new trail updates, click here and subscribe to "Trail Updates."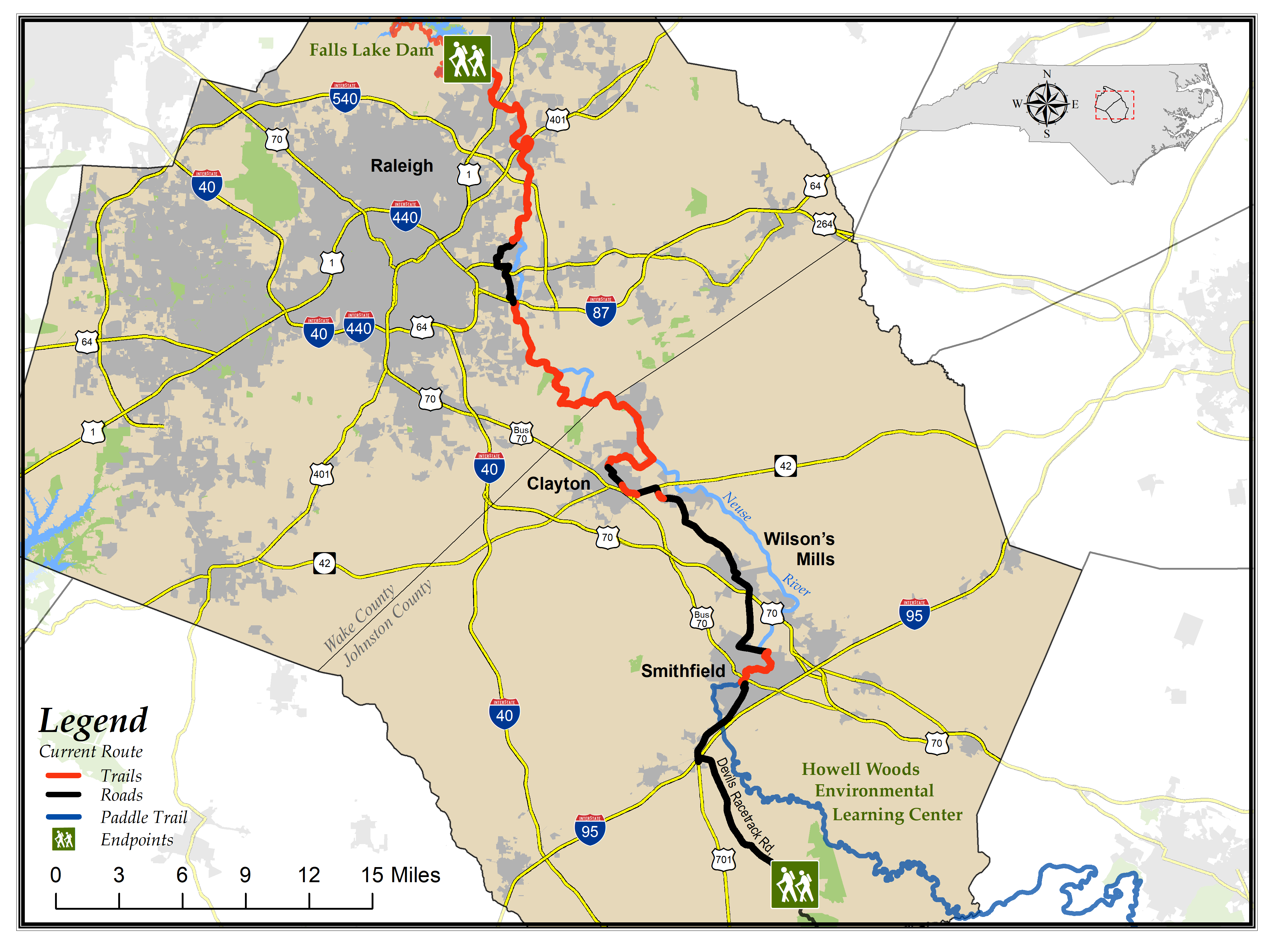 By Crawford Crenshaw, Kate Dixon, Jim Grode and Friends of the Mountains-to-Sea Trail

This 66-mile segment parallels the Neuse River as it flows from the outskirts of Raleigh—North Carolina's capital city—to Johnston County's rural southeastern corner. More than 36 miles of the route are on several stretches of paved, multi-use greenway, the longest of which is over 17 miles. (The current route incorporates a long-term detour around a section of the Neuse River Greenway that is closed at least through 2024 due to a major sewer project.) The trail crosses the Neuse River several times, affording scenic views of the river, the surrounding floodplain, and wildlife.
The route also leads hikers to the bustling downtowns of Johnston County's two largest towns—Clayton and Smithfield, the county seat—and past rolling farmland used to grow tobacco, cotton, grapes for wine, fruits, and vegetables. The eastern end of the route is at Howell Woods Environmental Learning Center in the heart of a vast, wilderness Neuse floodplain known as the Let'Lones.
Most of the greenway is called the Neuse River Trail (NRT), but when it enters Johnston County, it changes its name to the Clayton River Walk, then to Sam's Branch Greenway in Clayton. After a road-walking stretch, the greenway resumes in Smithfield as the Buffalo Creek Greenway. Travelers will have numerous wildlife viewing opportunities and an education through the many interpretive signs, which bring alive the history and abundance of natural resources along the trail.
This segment is a great place to explore by bicycle as well as on foot as the entire route is on multi-use, paved trails and on roads.
The Neuse River, the primary natural feature of this segment. The river is named for the Neusiok tribe that lived far downstream near present-day New Bern and Havelock. (Another section of the MST in that area is named the Neusiok Trail.) Around 1700, the remaining 15 warriors of the Neusiok tribe probably joined the Tuscarora tribe that lived along the Neuse River near current-day Raleigh.
Pedestrian bridges over the river, including two graceful suspension bridges: one at Skycrest Road and one at Louisburg Road in Raleigh
Raleigh parks along the greenway including Horseshoe Farm, Milburnie, and Anderson Point
The annual public art project along the Clayton MST/River Walk. Each year, the project has a different theme to enhance the greenway and engage young people in the arts.
Downtown Clayton, with its vibrant mix of restaurants, breweries, shops, and historic buildings
Smithfield's 2.8-mile greenway which meanders along a wooded waterway to the Neuse River Commons in the center of Smithfield's downtown, home to the Ava Gardner Museum
Howell Woods (Rudolph Howell and Son Environmental Learning Center), a 2,800-acre preserve owned by Johnston Community College. The center has camping, hiking trails, and other programs to help people learn about and enjoy this extraordinary natural place.