Friends of the Mountains-to-Sea Trail invites you to join us Friday and Saturday, March 26th-27th, for our virtual annual meeting, this year affectionately called the unGathering of Friends.
Until it's safe for our community to come together in person, we invite you to gather safely around your small screen to salute the trail that unites us – the Mountains-to-Sea Trail. Even though we're "unGathered," this is still a very united and active group, and we are eager to see you!
During the two day event, we'll update everyone on the latest MST happenings and invite all to show how we've found joy on the trail, even during these rocky times.
Registration opens soon!
The annual meeting and workshops on Saturday are open to all for a registration fee of $30 through March 7 and $35 after. This fee will give you a Zoom link for one computer, and any and all members of your household are welcome to join.
Friday night is a free event for members only. If you would like to become a member and attend Friday night festivities, we welcome you to register at a special price of $60 with your membership donation ($35) included.
Friday March 26
At 6 pm, the unGathering opens with a "members-only" Celebration and Happy Hour. (Those who have given $35 or more to Friends of the MST in the last year are considered members.) During this time, we'll thank volunteers, honor recent trail completers and hear from 40 Hike Challenge completer Nashua Hussein.
A "Happy Hour" will follow from 7 to 8 pm. Think of it as "speed dating" with other trail enthusiasts.  Every 20 minutes over the hour, we'll introduce you to a new group of trail friends via Zoom.  At 8:15 pm, switch over to Facebook for a short concert from musician and MST section-hiker Shay Martin Lovette. Clink glasses while toasting the MST with a special pint glass that you can snag for $5 (plus shipping) with special link to our online store. This glass is exclusive for attendees until the end of March and then be available to all for $8.  (You'll receive the link in your confirmation email when you register.)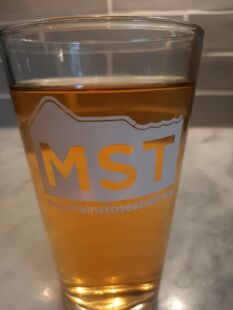 Saturday, March 27
For the first and only time, the Friends' annual membership meeting will be open to the public. This is a great chance for all those who haven't been able to join us in-person before to attend a Gathering.
MORNING:
We'll kick off at 9 am sharp, with a State of the Trail update from Kate Dixon, Friends of the MST's executive director and other MST leaders. They'll share updates on work to build new trail, develop new programs and improve the hiker experience on the MST. We'll also hear from Dwayne Patterson, the director of North Carolina State Parks and Recreation. We're thrilled to welcome back Director Patterson, who took a brief leave from State Parks to serve on Governor Cooper's Pandemic Recovery Office.
Our keynote speaker is Jeremy Markovich, who first wrote about the MST in 2019 for Our State Magazine. In 2020, he produced a series of podcasts for Our State's Away Message, which told a vivid story of the hikers, trail volunteers, founders and dreamers that make up the MST community. We'll hear behind-the-scenes stories from the making of the podcast, plus find out what happened once Jeremy put the microphone down and reflected upon the experience. Spoiler alert, there may be photographic evidence of his offspring toiling at a trail workday.
The morning session will wrap up around 11:30.
AFTERNOON: 
After a break for lunch, we'll regroup at 12:30 for a panel to discuss the experiences of people of color on the MST, featuring MST 2020 Completer Cedric Kopa and moderated by Dwayne Patterson, director of NC State Parks.
Then we'll start three sessions of workshops, at 1:30, 2:30 and 3:30.  Each session will last approximately 45  minutes, leaving 15 minutes to wiggle before the next session begins. Sign up for one workshop per hour, but never fear if more than one interests you.  We'll be recording them all, so you can watch any you miss later.
Planning your MST hike is half the adventure! Here's how our resources can help
The weekend forecast looks great, and you want to make the most of it with a hike on the MST. But where? With 1,175 miles and the mountains, piedmont and coastal plain to choose from, the options can be overwhelming. Join GetHiking! author, hike leader and podcaster Joe Miller and Jim Grode, Trail Resource Manager for the Friends of the MST, and learn how to use the MST's various trail resources to find a stretch of trail that suits your hiking style. Joe and Jim will demonstrate how to use the Friends of the MST's resources, including maps and trail guides, plus offer some especially helpful tips on how to spot stretches of the trail that may not be as heavily hiked as others.
Off the beaten trail: Exploring MST communities in Ashe, Bladen, Guilford and McDowell Counties
When you plan day hikes or weekend excursions on the MST, do you always go to the same places? Get ready to find your next favorite spots!  Moderator Tammy Proctor, Pender County Tourism Director, will introduce you to the experts from Ashe, Bladen, Guilford and McDowell Counties, helping you to learn about some less traveled hidden gems.  Experience the culture in Ashe County, the beauty of the Carolina Bays in Bladen County, and the Cascades and Greensboro watershed lakes in Guilford County, and the scenic vistas in McDowell County. Locals Jeff Fissel (Ashe County Arts Council), Terri Dennison (Town of Elizabethtown Director of Communication and Marketing), Elizabeth Jernigan (Trail Planner, Greensboro Parks & Rec) and Heather Cotton (City of Marion Planning and Development Director) will share their favorite stretches of the MST and post-hike hangouts in this workshop designed to entice you off the beaten trail.
Day hiking and backpacking with kids (of all ages) on the MST: A Fireside Chat with two families who have done it right!
Getting our offspring and grandchildren onto the MST seems like an easy enough thing to do – we love hiking, so why don't they? Meet two inspirational families who have tackled the MST with youngsters and are (mostly) having fun and (secretly) cultivating the next generation of hard-core hikers.  The El-Genk family is quite accomplished at day hiking, with all six members completing the 40 Day Hike Challenge in 2020.  The Wilson family spends longer spans on the MST, backpacking for multiple days in the most remote stretches of the trail. Learn how the El-Genks mix learning about North Carolina with time on the trail and how the Wilsons encourage their girls to shoulder a pack and immerse themselves in the rhythm of nature. The workshop will be moderated by Triangle Land Conservancy's Education and Outreach Manager Diquan Edmonds and include input from the parents – Hussein & Nashua and Christine & Geof – and the six youth hikers.
For those who like to go FAST: Fastest Known Times on the MST
The trail calls to us all in different ways, and for some that call is for speed! Meet some of the amazing athletes who have set remarkable speed records on the MST recently. Tara Dower set the Fastest Known Time (FKT) on the MST in 2020, completing the 1175 miles in just 29 days, 8 hours and 48 minutes, averaging over 40 miles a day. Kyle Curtin and Tory Grieves hold the men's and women's FKTs on the "Pitchell" section of the MST, starting at the summit of Mt. Pisgah and traversing 62 miles to the finish on the summit of Mt. Mitchell. Moderator Chuck Millsaps from Great Outdoor Provision Co. guided Diane Van Deren during her FKT setting-hike on the previous route of the MST in 2012 so he knows firsthand about pushing body and spirit to these record setting performances.
Sustainable trails as habitats: Leave No Trace and ecological repair along the MST
The natural surface portions of the MST are built using sustainable trail practices that help control the speed and velocity of water, mitigate over-usage and manage invasive overgrowth. Now let's expand the definition of sustainability – how can we use the trail and the areas surrounding it to enhance and benefit wildlife, endangered species and the greater natural environment? Join Trevor Flanery, the director of the Duke Energy TRAILS program at Rockingham Community College, Ben Jones, Friends of the MST's Coastal Crescent Project Manager and others to learn how we can be better stewards by considering the trail as habitat and connector for plants and animals as well as hikers.
For those who like to go SLOW: Natural history and ecosystems on the MST
When you go for a hike, do you notice what's around you? Do you sail on past the mushrooms or stop to take a peek? Join two experts who will encourage you to slow down and look at what's happening around you, on and just off the trail. Learn about the natural history, importance of ecosystems and what work is being done to restore and protect many of our most precious landscapes. Julie Moore has worked in a variety of southern forest ecosystems, both uplands and wetlands, most recently with longleaf pine forests and the many associated plant and animal species. Ken Bridle is a trained botanist with an emphasis on plant physiology and natural product chemistry (Ph.D.). He has worked as a natural heritage and watershed inventory biologist, field ecologist, and environmental consultant and is currently working with our own Ben Jones as we explore possible trail routes through the Belews Lake area in Guilford County. Friends' Coastal Crescent Project Manager Ben Jones will moderate. 
Want to hike the whole thing? Learn from MST Completers – Classes of 2019 and 2020
Now's your chance to meet and interact with the Mountains-to-Sea Trail's most recent completers from 2019 and 2020 including: Dan Auman, Benjy "Doc" Brown, Tara MK "Candy Mama" Dower, Steve Hampton, Cedric Kopa, Susan "Kansas" Levy, Maddy Mumma, Charlie "Bald" Milligan, Lisa "Conundrum" Speas, Henry "Moxie" Westmoreland and Phoebe Whitwell. Section Hiker and Podcaster Julie "Jester" Gayheart moderates a fun and informative session as completers share their highs, lows, logistics, and much more as they hiked across North Carolina. This is a great time to ask a completer something you've been pondering if you are currently hiking or thinking about hiking the MST. Come with your questions – this is always a lively crew! (This panel may run longer than 45 minutes to accommodate all your questions.)
Saturday afternoon & Sunday
TAKE A HIKE!
After all the sitting around our screens, get out and find joy on the MST! Share your pictures on Facebook and Instagram with hashtag #MSTunGathering and #mountainstoseatrail.
Thanks to our sponsor: