Segment 16B: The Croatan
Stella to the Neusiok Trail – Coastal Crescent Route



Distance: 46.4 miles (22.2 on paved roads; 24.2 on unpaved roads)

Difficulty

:

Trail Communities: Newport, Havelock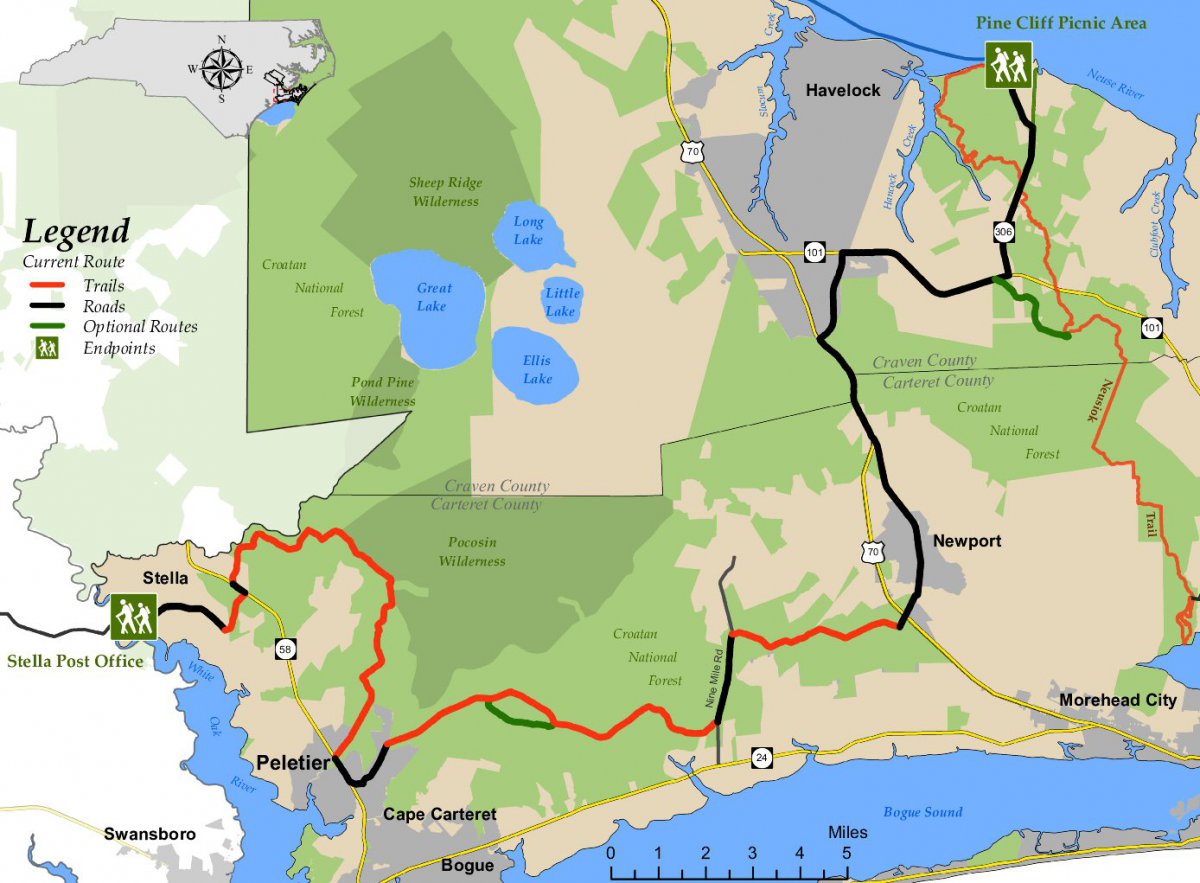 By Kate Dixon and Jim Grode

Hikers on this trail segment will explore miles of sand roads through the 161,000-acre Croatan, one of four national forests in North Carolina. Although small by national forest standards, the Croatan is a very special place—home to many rare natural communities and native species of plants and wildlife.
The center of the forest is largely pocosin, nearly impenetrable upland swamp with brushy vegetation that is home to many species, including black bear. The trail, therefore, skirts the pocosins to the south—following sandy ridges that support a longleaf pine forest that is being managed to increase the population of endangered Red-cockaded Woodpeckers. When Europeans first settled the Americas, longleaf pine forests were the predominant ecosystem in the southeast, but they are now considered globally rare.
But even though the trail route mostly follows sandy ridges, this forest is a wet place. Particularly after a rain, hikers should expect to encounter puddles and ponds on the roads and to be ready to cross hardwood wetlands that follow meandering, blackwater streams. Hikers will be rewarded, however, with views of huge bald cypress trees and possibly an alligator, songbirds like the prothonotary warbler, and many other species.
The trail route takes hikers through the little town of Newport, named for the Newport River, and past the Newport Historical Museum and its park commemorating an 1864 Civil War battle over the Newport Barracks. The town of Havelock, on the eastern end of the route, is home to the Marine Corps Air Station at Cherry Point.
24 miles of unpaved forest road through the longleaf pine forests in the Croatan National Forest
An alternate trail route for the intrepid hiker offers a close-up view of a blackwater stream and hardwood wetland in the Croatan.
The Newport Historical Museum and Battle of Newport Barracks Civil War Memorial Park provide ways to learn more about the history of the area.