Day Hike J: Shinleaf Recreation Area to NC 50
The March to Headquarters
Distance: 3.9 miles
Difficulty: Moderate.
Camping: Yes. Walk-in camping at the eastern trailhead, at the Shinleaf Recreation Area. Water, bathhouse. $23 per site per night.
Land managers: N.C. Division of Parks & Recreation, N.C. Wildlife Resources Commission, U.S. Army Corps of Engineers. Note: Some or all of this trail is on game lands and hunting is allowed. Learn about local hunting seasons here.
Volunteer Task Force Leader: Jeff Brewer, jdbrewer104@gmail.com.
Piggyback trail: Falls Lake Trail, a/k/a South Shore Trail.
Connecting trails: Occasional connectors upslope to neighborhoods, downslope to lake.
Falls Lake MST Section Nos.: 9, 10.
Trailhead/Access: Shinleaf Recreation Area (gate hours are 8 a.m. to sunset) and NC 50. Click on map below for specifics.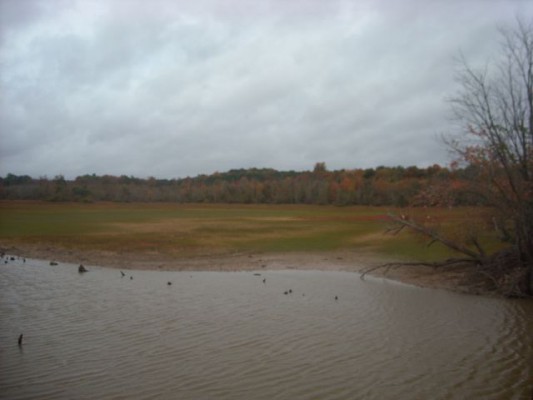 A rather eventful section that has two road crossings within the first mile or so. From there, it's an up-and-down stretch of solitude through some of the steeper terrain found along Falls Lake: nothing prolonged, but some quick climbs and drops. Around the 2.7-mile mark the trail utilizes old roadbed, which requires you to keep your eye out for the white blazes. You part from the lake for the last mile or so.
The park office is located near the western trailhead, good for water and a restroom in a pinch.
Geology Highlights: This hike crosses from one metamorphic terrane into another: the eastern part lies in the Falls Lake terrane, and the western in the Carolina terrane. Near their faulted boundary, a rocky ridge just above the trail is a very hard and unusual quartz-kyanite rock, which may have been formed from an ancient volcanic rock precursor.
For detailed hiking directions and parking information, download the Segment 10 guide from our Trail Guides page, using the "Primary Trailheads" section to pinpoint the location. You can also visualize the route on our interactive map.