Day Hike M: Rollingview State Recreation Area to Little Lick Creek bridge
Rollingview to Little Lick Creek
Distance: 4.1 miles
Difficulty: Moderate
Camping: Yes. Rollingview Recreation Area at Falls Lake. Reservations: 1-877-7-CAMP-NC (722-6762) or go here. $25.
Land managers: N.C. Division of Parks & Recreation, N.C. Wildlife Recreation Commission, U.S. Army Corps of Engineers. Note: Some or all of this trail is on gamelands and hunting is allowed. Learn about local hunting seasons here.
Volunteer Task Force Leader: Jeff Brewer, jdbrewer104@gmail.com
Piggyback trail: No
Connecting trails: Access trail to parking at dead-end of Santee Road. Occasional short connector to lake
Falls Lake MST Section No.: 14
Trailhead/Access:  Santee Road and Rolling View Recreation Area. Click on map below for specifics.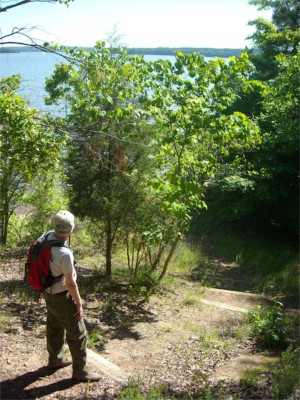 Camping at the eastern trailhead makes this stretch part of a backpack option when the seasonal campground is open; its western terminus in the middle of the Little Lick Creek bridge offers a rare panoramic view from the Falls Lake Trail. In between is nearly 4 miles of typical Falls Lake scenery — with a twist or two.
One of those twists comes at about the midpoint: a bluff that looks out over the lake. About a mile from Rollingview there's a notable descent that might, for the moment, put you in mind of hiking downhill in the Appalachians. You'll find more mature forest here than is typical along Falls Lake, and the trail enjoys some especially scenic stretches along the lake. Note that the trail follows a thin slice of public land on Section 12 that treads close to private property. Stay on the trail.
Geology Highlights: A sandstone cliff along the lakeshore and a traceable line (dike) of diabase rocks are geological highlights of this trail section.  The cliffs are parallel to the former channel of the Neuse River.
Day Hike M Map
Click on the link below the Google map to open it up in a larger version which includes definition of the map symbols, hiking notes, and an interactive option for driving to the trailheads.


View MST / Falls Lake / Section 12 in a larger map
Disclaimer
Finding Your Way
Thanks to Mark Edelstein for these detailed hiking directions.
| Finding Your Way (east » west) | Cumulative Mileage | Mileage Between Points |
| --- | --- | --- |
| Trailhead: Gravel lot on Baptist Road before gate into Rollingview Recreation Area.Pass the entrance station to Rolling View, reach a yellow manhole cover and turn L to enter the woods. | 0.0 | 0.0 |
| Cross a small creek bed. Soon junction, L, with a blue blazed path to a hiker's parking lot off Baptist Road (After some small ups and downs cross a creek bed, on a footbridge, at 0.3 mi -> after a short, steep ascent the trail levels off to reach the lot at 0.5 mi). | 0.2 | 0.36 |
| Cross a small creek bed. | 0.4 | 0.54 |
| Cross another small creek bed in a low lying section. | 0.5 | 1.46 |
| Cross a small creek (May be dry). | 0.6 | 0.85 |
| Junction with an unmarked path, L. | 0.7 | 0.51 |
| By the top of a rock face cross a small creek. | 0.9 | 0.41 |
| After a slight ascent, reach lake views, R. Soon pass through piles of trees cut to allow passage of the trail. | 1.0 | 0.0 |
| Near the lake shore turn L to walk up some steps and pass by several residences. The trail becomes narrow through here. | 1.5 | 0.36 |
| Pass through a slightly open area with lake views, R. These will continue for a short distance. | 1.7 | 0.54 |
| The trail starts to head "inland". | 1.8 | 1.46 |
| Within view of a graveled road, L, the Falls Lake Trail turns R as it starts to parallel the road. Soon cross the opening of a drainage pipe and eventually make a second R to leave the road. | 1.9 | 0.85 |
| Cross a roadbed, coming from a residence. Soon start to walk by the lake shore, R. | 2.4 | 0.41 |
| Cross a path from a residence, L. | 2.5 | 0.0 |
| Cross an overgrown roadbed and soon a possibly, dry creek bed. | 2.8 | 0.36 |
| Reach another old roadbed. Cross it and veer towards R to stay on the trail. | 2.9 | 0.54 |
| Pass some trail signage and veer to the L by a residence. Soon start to walk near, but above, the lake shore. | 3.0 | 1.46 |
| Reach a gravel road (private) as the trail turns R to follow it. | 3.2 | 0.36 |
| After the road goes over the dam of a small pond, L, turn R to reenter the woods. | 3.3 | 0.54 |
| The trail crosses a narrow path. | 3.5 | 1.46 |
| Cross another roadbed, with a blue-blazed connection (0.1 mi L) to Santee Road. | 3.6 | 0.36 |
| Cross under a power line. | 3.8 | 1.46 |
| Exit woods and reach another power line by a gravel roadbed (L 0.2 mi is Santee Road). Stay R to cross Little Lick Creek on a large footbridge (Note the landscaping on both sides). | 4.0 | 0.36 |
| Trailhead: Traverse 2 long boardwalks (Depending on the lake level, it may be wet with over 1 ft of water in between). On the other side, enter Section 15. | 4.1 | 0.54 |