Day Hike M: Rolling View State Recreation Area to Little Lick Creek Bridge
Rolling View to Little Lick Creek
Distance: 4.4 miles
Note: Due to repeated incidents of loud late-night partying, trespassing, blocking of driveways, vandalism, littering, gunfire, and other illicit behavior, parking has been prohibited at Jimmy Rogers Rd. and Santee Rd. Therefore, the only practicable ways to complete Day Hike M at this time are as an out-and-back hike from Rolling View State Recreation Area or by combining it with Day Hike N for an 8.8-mile hike.
Difficulty: Moderate.
Camping: Yes. Rolling View Recreation Area at Falls Lake. Reservations: 1-877-7-CAMP-NC (722-6762) or go here. $7 per night.
Land managers: N.C. Division of Parks & Recreation, N.C. Wildlife Recreation Commission, U.S. Army Corps of Engineers. Note: Some or all of this trail is on game lands and hunting is allowed. Learn about local hunting seasons here.
Volunteer Task Force Leader: Jeff Brewer, jdbrewer104@gmail.com.
Piggyback trail: No.
Connecting trails: Occasional short connector to lake.
Falls Lake MST Section No.: 14.
Trailhead/Access: Jimmy Rogers Road and Rolling View Recreation Area. Click on map below for specifics.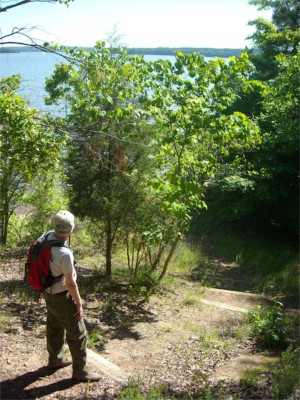 Camping at the eastern trailhead makes this stretch part of a backpack option; its western terminus in the middle of the Little Lick Creek bridge offers a rare panoramic view from the Falls Lake Trail. In between is nearly 4 miles of typical Falls Lake scenery — with a twist or two.
One of those twists comes at about the midpoint: a bluff that looks out over the lake. About a mile from Rolling View there's a notable descent that might, for the moment, put you in mind of hiking downhill in the Appalachians. You'll find more mature forest here than is typical along Falls Lake, and the trail enjoys some especially scenic stretches along the lake. Note that the trail follows a thin slice of public land on Section 12 that treads close to private property. Stay on the trail.
Geology Highlights: A sandstone cliff along the lakeshore and a traceable line (dike) of diabase rocks are geological highlights of this trail section. The cliffs are parallel to the former channel of the Neuse River.
For detailed hiking directions and parking information, download the Segment 10 guide from our Trail Guides page, using the "Primary Trailheads" section to pinpoint the location. You can also visualize the route on our interactive map.