Day Hike Q: Hickory Hill boat ramp to Redwood/Tom Clark roads
High Flying, Fast Driving
Distance: 2.3 miles
Difficulty: Easy
Camping: No
Land managers: N.C. Wildlife Resources Commission, U.S. Army Corps of Engineers. Note: Some or all of this trail is on gamelands and hunting is allowed. Learn about local hunting seasons here.
Volunteer Task Force Leader: Jeff Brewer, jdbrewer104@gmail.com
Piggyback trail: No
Connecting trails: Occasional feeder trail to lake
Falls Lake MST Section No.: 19, 20
Trailhead/Access: Hickory Hill Boat Ramp and the elbow of Redwood and Tom Clark roads. Click on map below for specifics.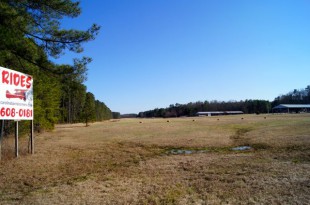 It would be easy to dismiss this short section as a connector between the more bucolic sections 14 and 16. But this stretch has attributes in its own right, though perhaps not the kind you come to expect on a hiking trail. Like Lake Ridge Airport, home of the Carolina Barnstormers. If Mike's around and if you have $125 in your day pack, he'll take you up in his red, open cockpit Waco biplane for a 25-minute spin over Falls Lake and the Duke Campus.
If you don't have $125, keep hiking and you'll have another unusual trail opportunity: the chance to hike through a cement culvert under an interstate highway. (Note: The tunnel can be wet and muddy; watch your step.)
Thanks to the dense floodplain forest, it's not long before you leave the roar of I-85 in your wake.
Geology Highlights: Large rounded (spheroidal) boulders of diabase are common along this stretch of the trail.
Day Hike Q Map
Click on the link below the Google map to open it up in a larger version which includes definition of the map symbols, hiking notes, and an interactive option for driving to the trailheads.

View MST / Falls Lake / Section 15 in a larger map
Finding Your Way
Thanks to Mark Edelstein for these detailed hiking directions.
| Finding Your Way (east » west) | Cumulative Mileage | Mileage Between Points |
| --- | --- | --- |
| Trailhead: Hickory Hill boat ramp | 0.0 | 0.0 |
| Cross the remains of a roadbed. | 0.2 | 0.2 |
| On a footbridge, cross a dry creek bed. | 0.5 | 0.5 |
| Cross the remains of a roadbed and soon pass through a large depression. | 0.7 | 0.2 |
| Reach a power line right-of- way by I-85. Turn L to walk along this for a short distance and come to the gated end of East Geer Street. To continue on the trail go L to walk around this barrier. | 0.9 | 0.2 |
| Go to the fence separating I-85 and turn L as the trail follows this right-of-way, soon passing under a billboard. | 0.9 | 0.0 |
| Pass by a stone boundary marker. | 1.0 | 0.1 |
| Pass another stone marker. Soon reach some steps, after going under another billboard, and take these down to access a roadbed. Turn right to walk under the interstate. | 1.1 | 0.1 |
| Turn L off the roadbed and then a quick R into the woods on a footpath. | 1.2 | 0.1 |
| Cross an old, overgrown roadbed and soon cross through a small depression. | 1.6 | 0.4 |
| Cross a small creek on a make-shift log bridge. | 1.7 | 0.28 |
| Walk across a wide power line clearing w a lake view, R. | 1.8 | 0.1 |
| The trail turns R, on a more open path for a short distance, to get closer to the lake. | 1.9 | 0.1 |
| Walk through a small depression. | 2.0 | 0.1 |
| Trailhead: After a short walk along a utility line, reach Redwood Road. Turn R to access the next section, staying straight where Tom Clark Road comes in from the L. | 2.3 | 0.2 |