Day Hike P: Cheek Road to Hickory Hill Boat Ramp
Hickory Hill Boat Ramp
Distance: 4.9 miles
Difficulty: Moderate.
Camping: Private campsite at Mile 3.9. No water or restrooms are available and no fires are allowed. Only cookstoves may be used!
Land managers: N.C. Wildlife Resources Commission, U.S. Army Corps of Engineers. Note: Some or all of this trail is on game lands and hunting is allowed. Learn about local hunting seasons here.
Volunteer Task Force Leader: Jeff Brewer, jdbrewer104@gmail.com.
Piggyback trail: No.
Connecting trails: Occasional trails down to lake.
Falls Lake MST Section Nos.: 16, 17, 18
Trailhead/Access: Cheek Road and Hickory Hill Boat Ramp. Click on map below for specifics.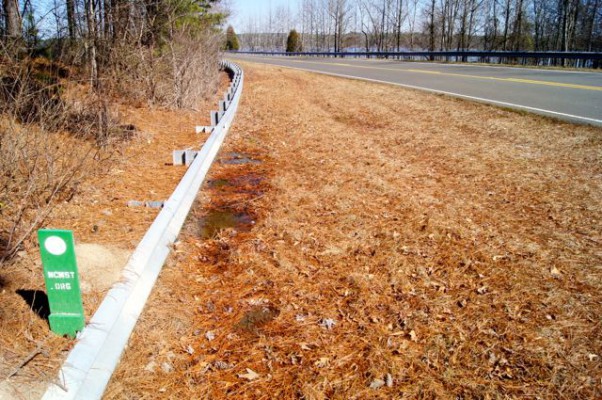 This is one of the flattest sections of the MST along Falls Lake, with little noticeable elevation change for the first mile. A little over a mile and a half in you'll find evidence of old homesteads, in the form of oaks spared to provide shade for the farmhouses and scraps of rusted metal that no-doubt once played a vital role at the time but today beg the question: When does a piece of scrap in the woods go from junk to artifact?
There are two road encounters on this stretch. At the first, the MST formerly went on Hereford Road over the lake, but the culvert collapsed, so we now have a beautiful 2.1-mile loop around a quiet cove of the lake. At the second, hang a right on the road, walk along the shoulder, when the guardrail runs out, you'll find the trail snaking off back into the woods.
The Hickory Hill Boat Ramp makes a good spot to take a break, for lunch, perhaps, or for a nap. A grassy slope offers a nice view of the lake below.
Geology Highlights: In the eastern part of this hike, you can see a diabase dike that illustrates the process of spheroidal weathering, the main reason for the large rounded boulders commonly seen in the Piedmont.
For detailed hiking directions and parking information, download the Segment 10 guide from our Trail Guides page, using the "Primary Trailheads" section to pinpoint the location. You can also visualize the route on our interactive map.