We are sharing tales from the MST as hikers are pursuing the 40 Hike Challenge.
This week we are exploring the Great Day Hike #27 in Segment 12, Downtown Roseboro Loop, hiked by the Mayor of Roseboro (and trail angel extraordinaire) Alice Butler and her husband, Greg. If you listened to the most recent season of the Away Message Podcast, you may remember that the town of Roseboro was the subject of Episode 6!
This easy hike, all on roads and sidewalks, forms a 1.9-mile loop highlighting both the history and the present of Roseboro, a Sampson County town that got its start as a depot on the railroad line from Fayetteville to Wilmington. Starting near the outskirts of town, the route parallels the old railroad bed into downtown, passing the remains an old brick cone silo (used to burn off scrap lumber that was too small for the local mill), the town park, community garden and Roseboro's historic railroad depot.
The return route passes two homes on the National Register of Historic Places. The first, the Dan E. Caison Sr. House, was built in 1924 and is considered one of the finest examples of American Craftsman-style bungalow in Sampson County. The second is the Troy Herring House. This large, two-story house, dating from 1912, was built for the owner of the local lumber mill and is the most elaborate of the county's Classical Revival houses.
Greg and Alice Butler enjoy walking the Mountains-to-Sea Trail in Roseboro which goes right by their home. When walking the old railroad bed in Downtown Roseboro, which is part of the MST, they like to stop at the local Pelican's and enjoy some ice cream. Their dogs always enjoy the hike and snack too.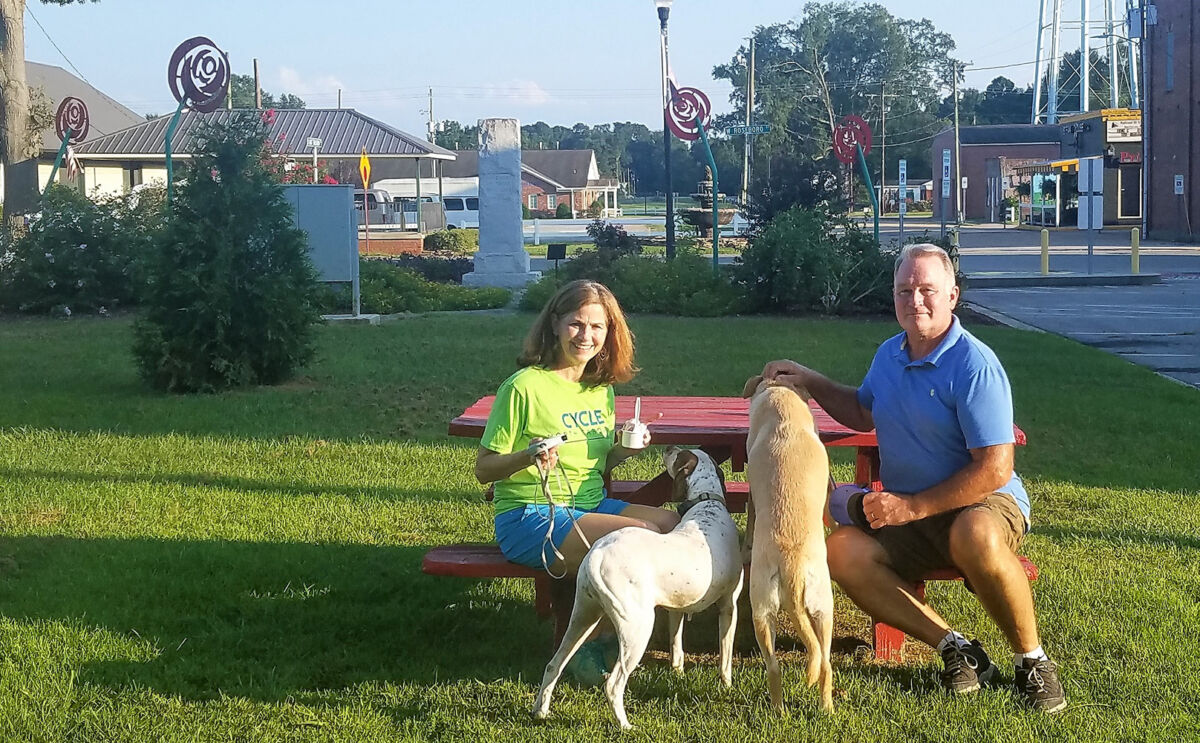 We invite you to hike all 40 of the hikes in Great Day Hikes – take the 40 Hike Challenge!  If you've hiked one of the 40 Hikes, share your story with us. Hashtag #MST40Hike or email with your tale.