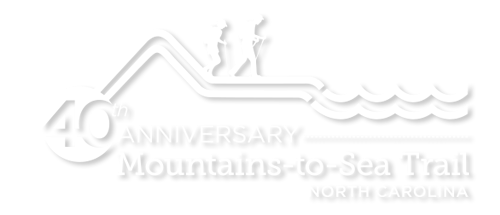 Beacon Heights | Photo © David Pozo
The Mountains-to-Sea Trail is celebrating 40 years in 2017!
On September 9, 1977, Howard Lee, then the North Carolina Secretary of Natural Resources and Community Development, made an audacious speech which has fired the imaginations and energy of trail enthusiasts ever since. In that speech, Lee recommended that North Carolina build a "state trail from the mountains to the coast, a trail leading through communities as well as natural areas."
Now almost forty years later, that trail has become a reality.  Nearly 700 miles of trail have been built and people follow the MST across North Carolina, using back road connections where trail has not yet been built. Every year new trail opens, and more and more people enjoy the trail for day hikes with their families, overnight backpack trips with friends, and even cross-state treks which become adventures of a lifetime.
Friends of the MST is organizing a series of events to celebrate the accomplishments of the first 40 years and build for the future. Mark your calendars now!
Friday, March 24 to Sunday, March 26 – Elkin

Thanks to the 350 MST Friends who gathered in Elkin on March 24-26 to kick off celebrations of the trail's 40th Anniversary.  It was a weekend of song, history, big visions, and inspiration enjoyed by everyone from MST founders to new friends. Elkin pulled out all the stops to welcome MST friends with a full schedule of hikes, paddles, art, Revolutionary War reenactments and more. Farm to Feet, the title sponsor of the event, even gave all attendees a free pair of MST socks! Click here for photos and videos from the event.
Thursday, May 4 to Friday, May 5 – Elkin

The 2nd biennial conference will provide an opportunity for elected officials, government staff, and tourism leaders of communities along the MST to learn how they can make the trail a success in their area.  Please contact Kate Dixon, kdixon@mountainstoseatrail.org or 919-825-0297, ext. 701, if you are interested in learning more.
August to November – North Carolina wide
National Geographic Adventurer Jennifer Pharr Davis will hike the entire MST starting in August. She will spend 3 to 4 months on the trail, and along the way MST Friends will have an opportunity to meet her at special events and hikes. She will also be sharing her experiences along the route through traditional and social media.
Saturday, September 9 – North Carolina wide
Forty years to the day that Howard Lee gave his original speech, hundreds of trail enthusiasts will each walk or paddle a portion of the trail so that, through their collective efforts, 100% of the trail will be covered in a single day. Registration to participate by walking one or more "legs" of the trail will open at the Gathering of Friends on March 24-26. Most legs will be three to five miles, but some will be longer because of the distance between trailheads.