The Upper Haw River Task Force made significant improvements to a highly travelled and very popular section of the MST in segment 9 (near Glencoe) in October. The team of ten volunteers replaced a set of stairs and a walkway that ran adjacent to the Haw River. Much of the funding was provided by a grant from REI Greensboro, with the balance provided by the City of Burlington.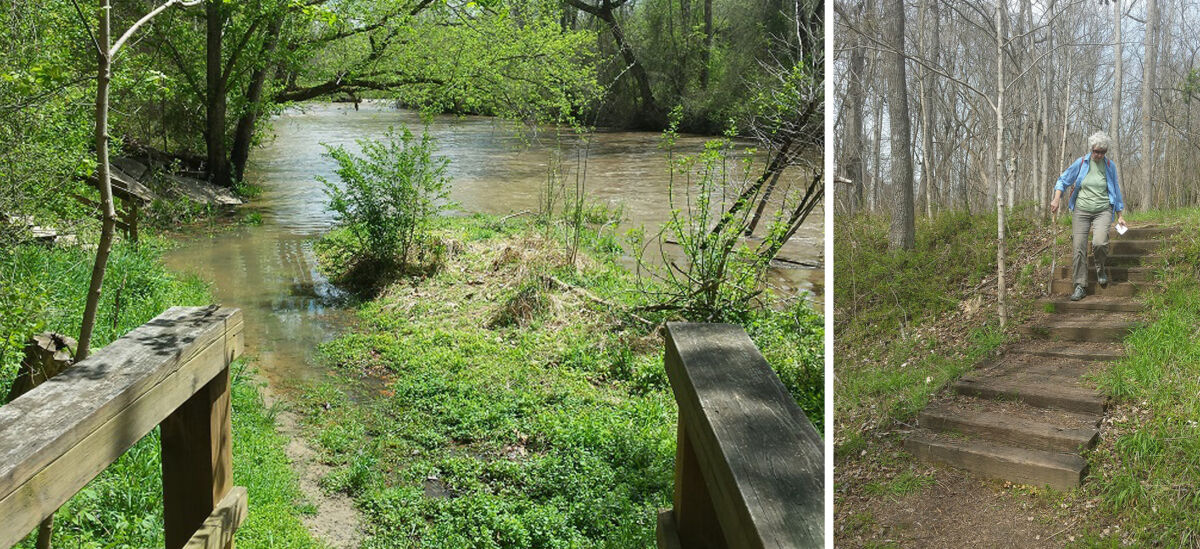 Trail steward Bob Ellis noted the dilapidated condition of the structures in 2018. Ellis, as caretaker of the stretch of trail running eastbound from the old Carolina Mill towards Carolina Mill Road, knew that many hikers use this stretch of trail regularly, including groups of vigorous retirees. Task Force Leader Greg Yahn said that calling the old railroad ties "stairs" was a generous use of the word. The time had come to replace the "wobbly, rotting, uneven, unsafe eyesore."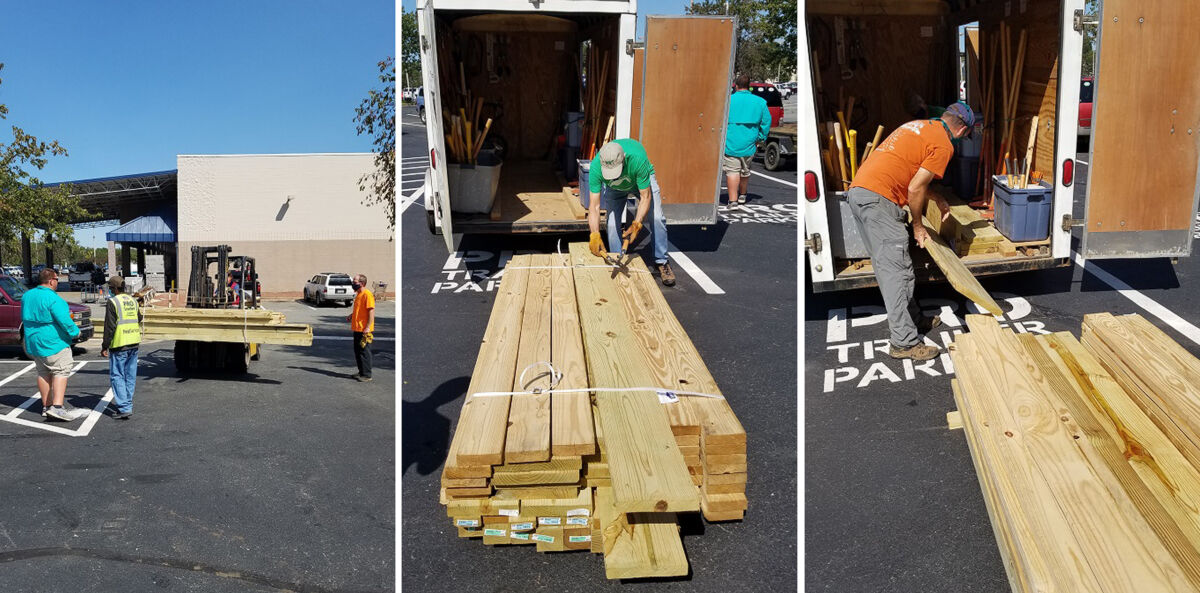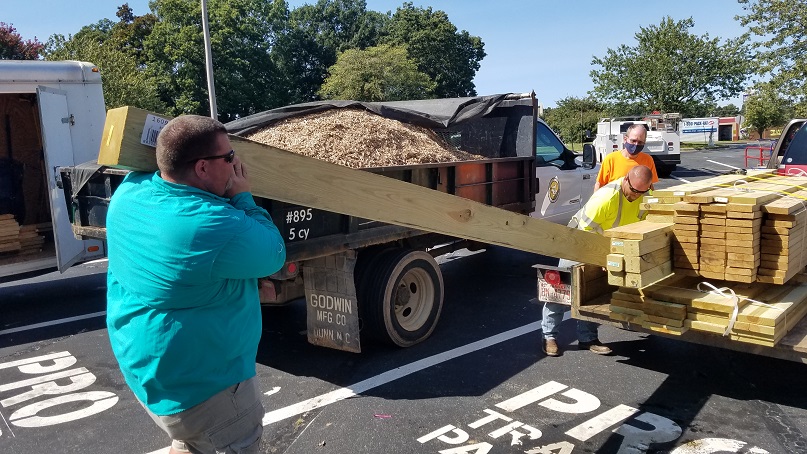 When REI-Greensboro donated $1350 for an MST project in Alamance County, this project sprang to mind. "We at REI see the Mountains to Sea Trail as a resource for all," said REI Greensboro store manager Ron Pinks. "Connecting the mountains of our great state to the sea is an exceptional challenge and we hope to provide stewardship and support to build up a resource to inspire others to get outside and enjoy all that North Carolina has to offer. Whether you are taking a day hike or thru hike the MST is a unique trail and we hope to drive interest and support via Leave No Trace ethics to ensure that users can enjoy for generations to come."
Even with funding covered, the project would prove challenging. The planning process for removal and replacement was almost as time consuming as the actual construction. Lead planner Haley Burch has an extensive background in carpentry, which was put to good use. This project was complicated, as it involved a set of stairs with railings, which came to a landing, and continued down more stairs. A stretch of footpath connects to the newly installed boardwalk. Lots of measuring twice, even thrice, before cutting!

Volunteer Andrew Sam was particularly handy in materials logistics, moving lumber and concrete. Some of the materials were pre-cut and hauled in multiple vehicles and trailers to the work site. Work on-site was focused over four full days in October, utilizing between 4 and 8 socially distanced volunteers. The site was tight and could not accommodate a larger crew. Germaine Yahn documented the work with many of the photographs that accompany this story. Task Force Leader Greg Yahn spearheaded the project, which totaled 231 volunteer hours.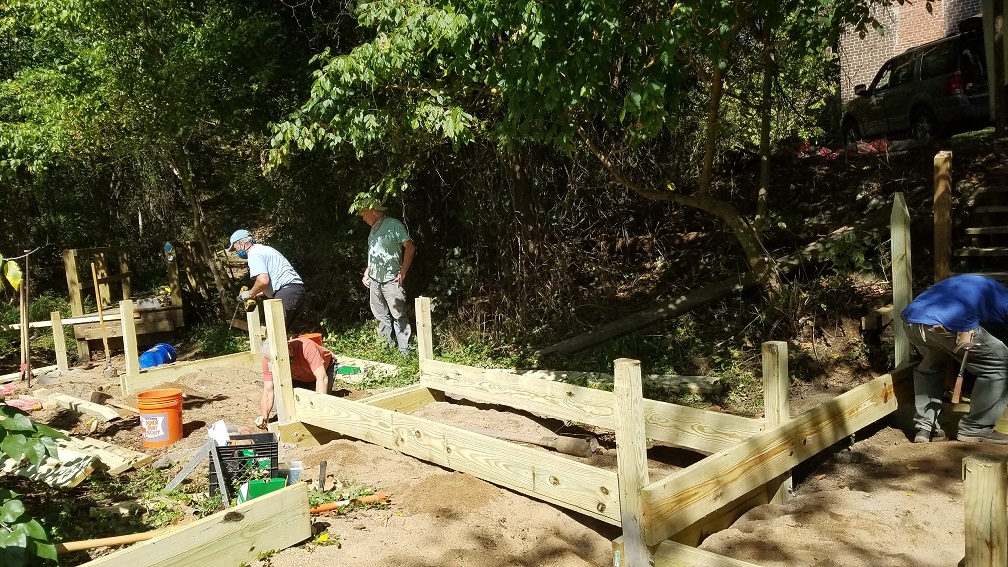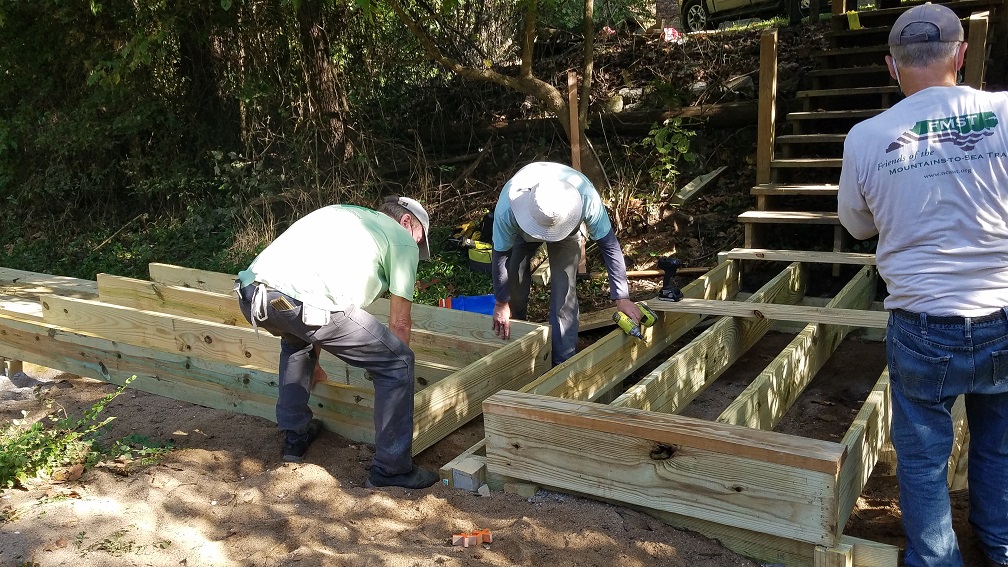 The volunteer work that the Friends of the MST oversees relies upon strong partnerships with our corporate supporters. The funds that were the impetus for this project were part of a larger grant of $3600 from REI-Greensboro (with an additional $10,000 granted by REI Raleigh.) The Town of Burlington stepped in with funding and provided leadership to get the job done; thanks to Tony Laws, Director of Recreation and Parks, and Chris Wright, Park Maintenance Manager.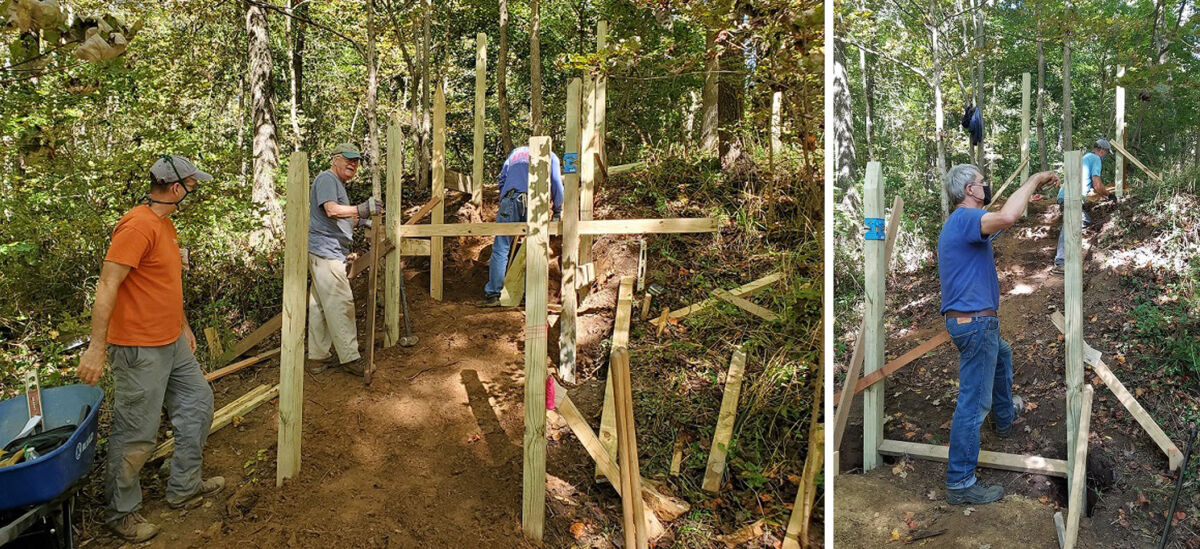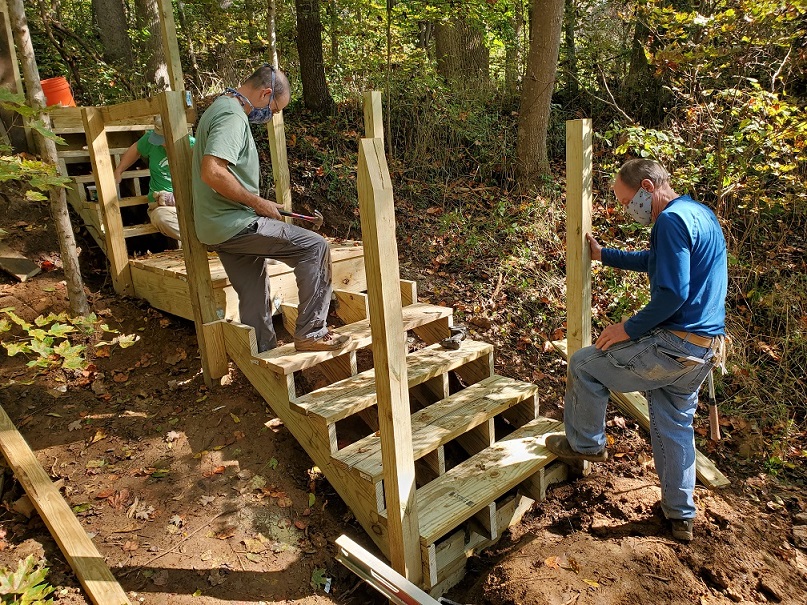 And thanks to our hardy volunteers, who worked tirelessly, even when the task at hand was to haul 36 bags of concrete to the site. Greg pointed out that only two on the crew were under the age of 60! This stretch of the MST is included in Great Day Hike #19, The Haw River Trail from Great Bend Park to Stoney Creek Marina. Check out the amazing stairs and boardwalk, and if you are so moved, send a word of thanks to our Upper Haw River Task Force by email at info@mountainstoseatrail.org.