One of the highlights of attending the 2022 Gathering of Friends at Lake Junaluska was a planned morning hike at Craven's Gap near Asheville. A trail that we had not experienced before and we were excited for the adventure!
Considered a moderate loop of 4.8 miles, it takes about 2 hours to hike. Due to impending inclement weather, our hiking leaders planned for us to hike up the mountain, take a break on "lunch rock", hike down to the Blue Ridge parkway and carpool back down to the parking lot where the hike began. This was a shorter route, a little over 3 miles.
About a mile into the hike, the rain began to sprinkle, but it did not last long. As we hiked through the trail, we briefly stopped to view the budding plants shooting through the earth and the beautiful flowers giving us the first showing of spring. Climbing steep inclines and stairs, this hike was proving to be more than moderate, but we stopped as often as we needed to gather ourselves, have a drink of water and take a few deep breaths. The hiking leaders were patient with us, a group of 12, most of us meeting for the very first time. Even with the threat of inclement weather, there were other hikers on the trail as well. We all seemed to be moving at a pretty steady pace, trying to avoid the sleet and snow predicted for later in the day.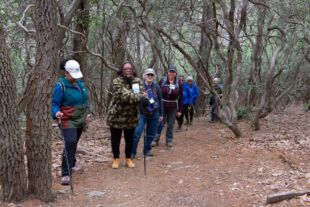 When we finally made it to the "lunch rock", we were ready to eat and take in the spectacular view. It was so worth the climb. A place you could stay for a while, take in the magnificent view and forget about the hustle and bustle of life. Sometimes, Mother Nature has a way of changing the best plans. It seemed that we had been on the "lunch rock" for 10 minutes and suddenly the wind picked up and the temperature dropped. It was cold. The trail leaders announced that it was time to go. Although the visit was short, I have thought about it every day since and will likely hike in this area again. It is a memory that I will cherish always.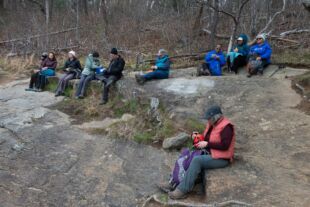 Seletha Pherribo
GirlTrek Leader
(photo credit, main Seletha  Pherribo; two smaller Bill Boyarsky)