Grab your party hat, hiking boots, birthday shirt, face mask and hand sanitizer. It's September 1st, the start of our month-long 43rd birthday celebration of the Mountains-to-Sea Trail!
We've dreamed up new challenges to help you safely celebrate the trail's birthday month.
Challenge #1: Take a Great Day Hike. Walk one or many of the 40 hikes in the new Great Day Hikes on North Carolina's Mountains-to-Sea Trail. These 40 day hikes are all across the trail, of varying lengths and difficulty, and showcase many natural and cultural gems that are connected by the MST.
Challenge #2: 43-Kilometer Challenge. Hike one of three designated 43-kilometer stretches of the MST in 24 hours to complete the 43K-Challenge. These stretches are:
·     Mountains: Segment 5 – Jumpinoff Rock Overlook to Brinegar Cabin. Hike through rolling hills in Doughton Park and Brinegar Family homestead.
·     Piedmont: Segment 10 – Rolling View Recreation Area to Yorkshire Center. Hike along the shores of Falls Lake.
·     Coastal Plain: Segment 15 – Holly Shelter Game Lands, Surf City Bridge and Topsail Island. Hike through long leaf pine savanna and onto Topsail Island.
Challenge #3: Triple Crown. Complete each of the three 43K hikes during the month of September to complete the 43K Triple Crown. If you need inspiration, check out Abi Winegarden. She plans to hike all three 43K hikes over Labor Day weekend and is raising funds for the MST! Thank you, Abi.
Challenge #4: Give the MST a birthday present. Make a gift yourself or invite others to join you in supporting the trail. Friends has created a peer-to-peer campaign system to help you reach out to friends and family.  Download the details – this guide will help you create your own fundraiser!
Full details for all the Challenges are available here. All are to be completed during September of 2020. Hikers are encouraged to hike following all local Covid-19 guidelines for safe outdoor recreation.
Snag a 43rd Birthday Hike shirt soon, before the limited edition shirt is gone! These will ship soon. The image is the same logo as at the top of this email.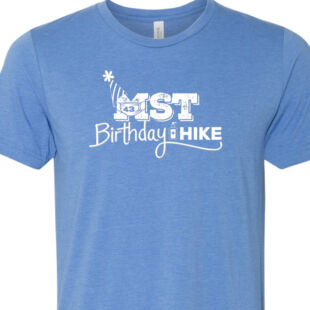 Share photos on Facebook or Instagram using the hashtag #MSTbirthday and the challenge you are tackling: #MST43K or #MSTtriplecrown.
And lastly, thank you! Without members, volunteers, hikers, trail partners, supportive communities, dreamers and doers, the trail would not be possible.
Happy 43rd to us all.