The MST turns 43 this September!
Each year since 2017, we have come together in different ways to hike and share our love for the MST. This year, especially as the trail has provided respite and safe recreation when we needed it most, we absolutely will be celebrating. We won't be hiking the entire trail in one day or joining together for guided group hikes over a weekend, but we will still celebrate.
This year, we've dreamed up some new challenges that you can take while socially distanced, and we invite you to help raise funds to support our work at the same time.  Scroll down for all the details.
For hike logistics, we recommend using Great Day Hikes on North Carolina's Mountains-to-Sea Trail as a guide. You can purchase a copy here. If you do not have the book, you can see a list of the hikes here. Most are straightforward point to point hikes, though some connect with spur trails to form loops.
It's not a proper birthday celebration without giving the trail a gift.  Make a gift yourself or commit to raise funds to help build, maintain, protect and promote the MST.   Donate $430 dollars or more to receive a special personalized pottery plaque handcrafted by Court Pernell, maker of our MST mugs and Falls Lake Challenge awards. To set up a fundraiser, use our peer to peer system which will be set up by September 1, create a Facebook fundraiser, find a business to support the MST, or donate directly if fundraising isn't your thing. No donations are too big or too small.
Step after step, mile after mile, the MST was made for times like these.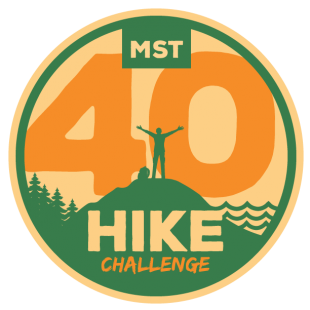 Challenge #1
Any day during September, walk one or many of the 40 hikes in the new Great Day Hikes on North Carolina's Mountains-to-Sea Trail guide.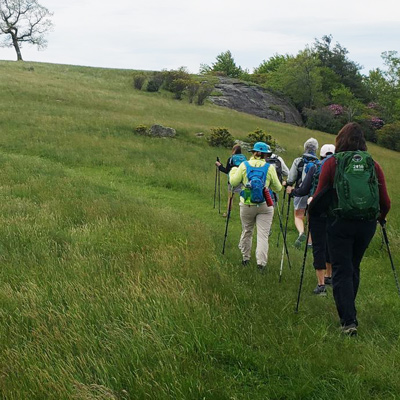 Challenge #2
To step up even more, we invite you to tackle the 43-Kilometer Challenge (approximately 26.7 miles to us non-metric types).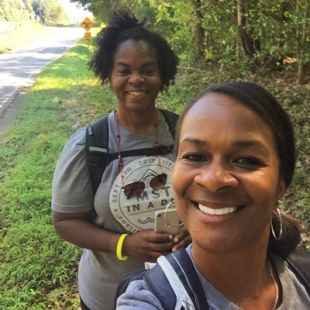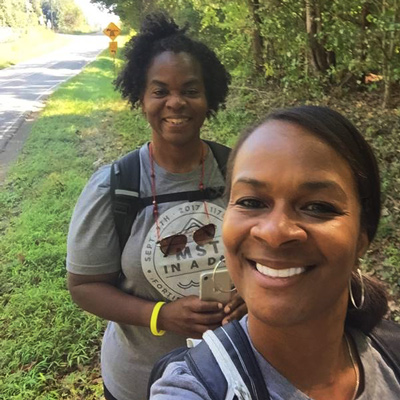 Challenge #3
Still not steep enough for you? Complete all three 43K hikes during the month of September to complete the Triple Crown.
The 40 hikes are spread across the state and showcase many natural and cultural gems that are connected by the MST – small towns and historic sites, national and state parks and footpaths through places of astounding natural beauty.  The adventures taken and memories made while on these 40 hikes remind us of how special our state and our trail are.  And of course, all of these hikes count towards the 40-Hike Challenge – hike all 40 of the Great Days Hikes by March 2023 to earn a special patch.
Challenge #3: Triple Crown
Hike ALL THREE of the 43-kilometer stretches of the MST, each on their own 24 hour time frame to complete the Triple Crown. Bragging rights, indeed!
If Challenge #2 still isn't steep enough for you, complete all three 43K hikes during the month of September to complete the 43K Triple Crown. (In the Coastal Plain, you only have to complete one of the options.) All Triple Crown completers will receive an MST prize pack including our new MST shirt, MST keychain, MST diner mug, MST sticker, MST pen and MST pad. Bragging rights indeed for those who finish all three hikes during the month of September!
To be eligible for the 43K Challenge and the Triple Crown prizes, please either submit GPS/Garmin/Strava data or submit 3 time and GPS stamped photos from the beginning, middle and end of the hike by 11:59 pm on September 30 to confirm completion.  Form for submission is here.
MST Birthday Hike Photos
We'd love to see the MST through your eyes and lens!
Share photos on Facebook or Instagram using the hashtag:
#MSTbirthday
and the challenge you are taking:
#MST43K or #MSTtriplecrown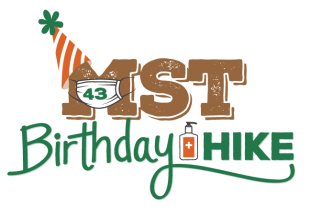 This is the fourth year we've celebrated the MST with a weekend of hiking. We hope you'll make an annual tradition of celebrating the MST!