We are sharing tales from the MST as hikers are pursuing the 40 Hike Challenge.
This week we are exploring the Great Day Hike #6 in Segment 3, Rattlesnake Lodge: Craven Gap to Tanbark Ridge Tunnel hike by Marcia Bromberg
Great Day Hike 5 and 6 are the two closest to Asheville and both are favorites with locals and visitors alike. #6 is a special favorite during spring wildflower season (mid-April through May). My wildflower crazy friends and I have identified over 40 types of wildflowers on our hikes at the height of the season.
As described in Great Day Hikes #6 stretches 4.4 miles from Craven Gap to Tanbark Tunnel on the Blue Ridge Parkway. There are a variety of ways to enjoy this trail section—as an 8.8 in/out hike, as a shuttle by leaving a car at the small parking area by Tanbark Tunnel, hiking the 1.7 mile Craven Gap to Bull Gap section, or hiking the Bull Gap to Rattlesnake Lodge section.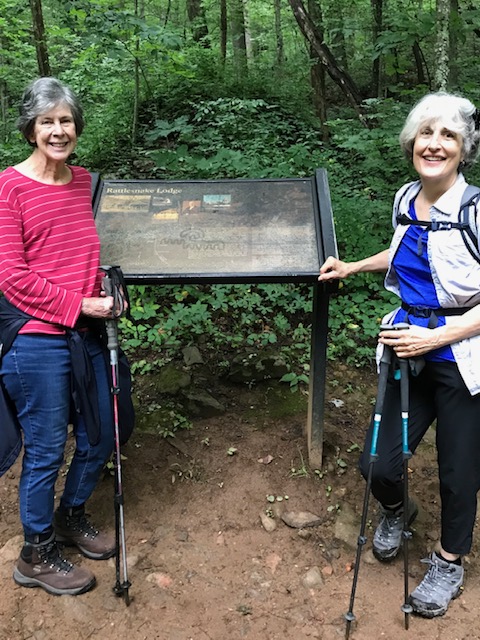 My friends and I recently hiked a 1.4 mile section from a small parking area on Ox Creek Rd., just off the Parkway, to Rattlesnake Lodge. The hike we took is only 1.4 miles and, although there is almost 500' elevation gain, switchbacks and a gradual incline make it accessible to all level of hikers. One of my friends, new to hiking, had no problem navigating the trail. This friend had never been to the Rattlesnake site. Built by Dr. Chase Ambler for his family in 1903-4 this lodge was only accessible by foot, horse or a special, narrow-axle carriage. Still, there was running water in the lodge as well as electricity from a water-driven generator. Sadly the lodge burned down in 1926, but there is an information sign where the main lodge stood which includes a map of the layout. And foundations of various buildings still survive.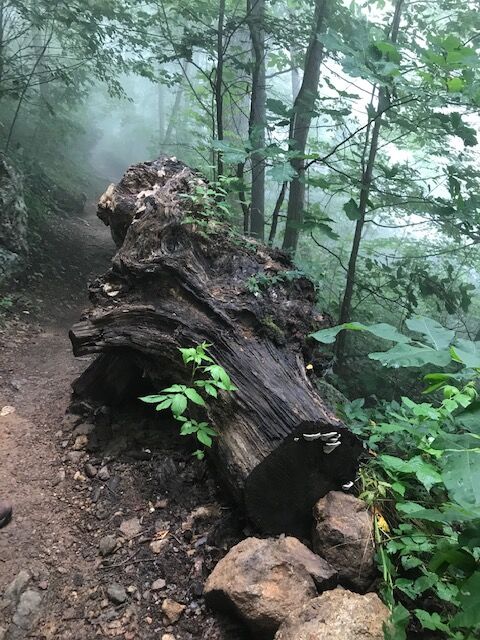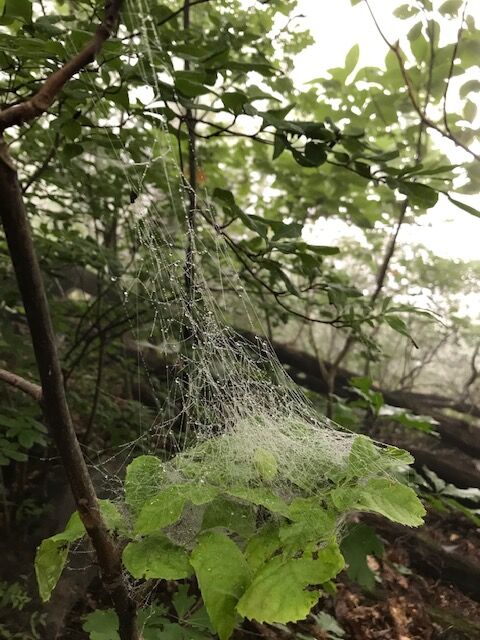 I don't usually hike this trail in the summer due to the poison ivy that lurks along the edge of the trail. In fact, the section just before where we began our hike includes "poison ivy rock"! But the trail was in great shape thanks to the maintenance of the Carolina Mountain Club—my hiking club. And here I'll need to brag a little about the CMC which has built and maintains over 140 miles of MST. In this section they built a series of very attractive fences to keep people on the trail in a section of short switchbacks. They also built an amazing bridge in the Craven to Bull Gap section.
Our hike began in fog and ended in bright sunshine—so typical of summer mornings in the mountains. But this trail is worth hiking in all seasons. Even in the winter when the Blue Ridge Parkway is closed and many mountain trail sections are inaccessible, Craven Gap can be reached via Town Mountain Road from Asheville and Bull Gap can be reached via Ox Creek Road from Weaverville. And, one last factoid, Barack and Michelle Obama hiked on this section in 2010 when they vacationed in Asheville. Just think, you can hike in a President's footsteps!
We invite you to hike all 40 of the hikes in Great Day Hikes – take the 40 Hike Challenge!  If you've hiked one of the 40 Hikes, share your story with us. Hashtag #MST40Hike or email with your tale.