We are sharing tales from the MST as hikers are pursuing the 40 Hike Challenge. This week we are exploring the trail along Gragg Prong, Lost Cove Creek and Hunt Fish Falls in Segment 4.
Great Day Hike #9 – Waterfalls: Pineola Road to Roseboro Road.  Friends' volunteer and former board member Carolyn Sakowski hiked with her husband Alton Franklin and Carmen, their pup. 
When I first became active in the Friends of the Mountains-to-Sea Trail about 10 years ago, I was reminded of fond memories of hiking and camping in Pisgah National Forest as a Girl Scout growing up in Morganton. As the Friends group prepares to celebrate its 43rd birthday as well as the publication of its new book–Great Day Hikes on NC's Mountain-to-Sea Trail—I was asked to hike one of the Day Hikes and give a short recap to entice people to get out and hike the MST.
Hike 9: Waterfalls was an easy choice for me. I've hiked this trail numerous times over several decades. Because it parallels Gragg Prong and Lost Cove Creek almost the whole route, it has several good-sized waterfalls and lots of idyllic spots for primitive camping, sunbathing, and dipping in small pools of cold mountain water.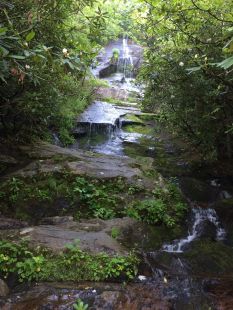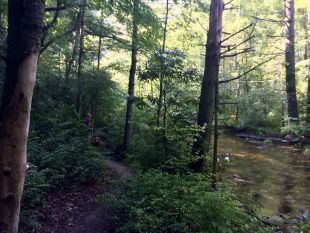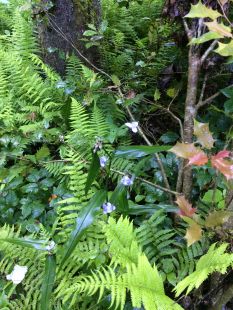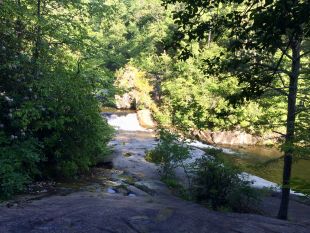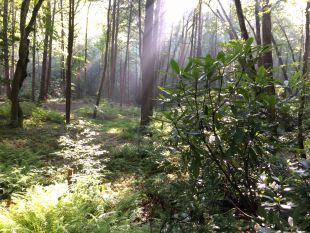 There is a steep descent at the beginning of the trail. Because of recent rainfall, the trail was slippery in places. My husband Alton, our golden retriever Carmen, and I are all "senior" citizens, so our ancient knees and hips dictated a slower pace than I used to take in my youth. But because we started just after sunrise, we had the trail mostly to ourselves and felt no pressure to move faster.
At the bottom of the descent 0.7 mile in, you're rewarded by Hunt Fish Falls. We hiked on the Thursday before the Fourth of July weekend and the white rhododendrons were in full bloom all along the trail. The trail travels through large stands of ferns as it parallels Lost Cove Creek after the first water crossing. The trail makes a sharp left turn as it climbs uphill at the confluence of Gragg Prong and Lost Cove Creek.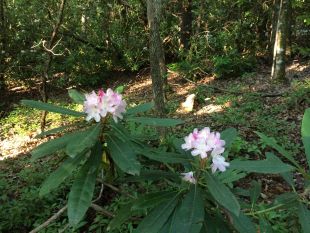 The next 2 miles are mostly uphill, with four more creek crossings. Depending on recent rainfall, the water may be swift and deep. For our hike, all of them required wading through knee-high water, with parts of the crossing passing through swift currents.  I wore waterproof hiking boots & Farm-to-Feet socks (I highly recommend these socks), so I just plowed right through the crossings. I would recommend hiking sticks for maintaining balance as you cross. The rocks are moss-covered and very slippery. When the current is moving swiftly, it's easy to take a spill.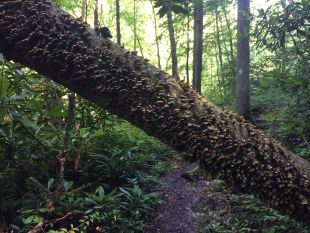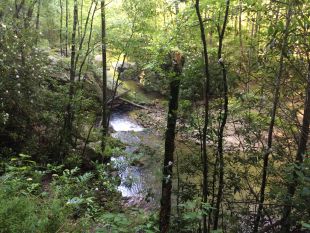 As you climb up the trail, you'll see lots of large rocks along the stream and its many cascades. Unless you head out early, you'll probably see lots of people sunbathing out on these rocks. Despite the many water crossings, this hike is a nature lover's dream. The scenery is constantly breathtaking. Be sure to take your camera/phone (although there's not much reception in this wilderness area), but be sure to take waterproofing precautions as you cross the streams.
Here are a few tips if this is your first time on this trail:
Go as early as you can. Weekdays are better than weekends. This area is very popular from June through October.
Take insect repellent in the summer since a large portion of the trail travels through wetlands near the creeks.
When traveling to trailheads, allow extra time as you probably won't travel more than 15-20 mph on the gravel forest-service roads. There has been little recent road maintenance, so there are lots of exposed rocks and washboard surfaces.
We invite you to hike all 40 of the hikes in Great Day Hikes – take the 40 Hike Challenge!  If you've hiked one of the 40 Hikes, share your story with us. Hashtag #MST40Hike or email with your tale.