We are sharing tales from the MST as hikers are pursuing the 40 Hike Challenge. This week we are exploring the trail Great Day Hike #38 – Cape Hatteras: Hatteras Lighthouse to Frisco Campground in Segment 18, hiked in January by Friends' Outreach Manager Betsy Brown. 
Our family took a long weekend and headed to Hatteras during my favorite time at the beach – the uncrowded and not hot time! We stayed right near the lighthouse, so I walked right out our front door onto the trail.
The hike officially begins at the Cape Hatteras Lighthouse, at 210 feet the tallest brick lighthouse in North America and the most recognizable symbol of the Outer Banks. You can still see the path the lighthouse took when it was moved back from its precarious perch close to the surf to its new home.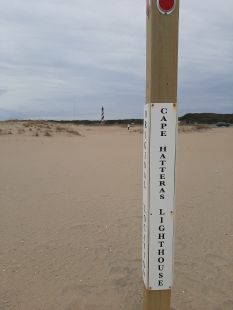 Once past the lighthouse, the hike continues into the amazing Buxton Woods, the only significant patch of maritime forest on the MST. The gnarled live oaks, loblolly pines, dwarf palmettos, and shrubby dunes of the area create an environment completely unlike the beaches most visitors to the Outer Banks see. I have visited the lighthouse many times in the past, but never taken the time to venture into Buxton Woods. Now it's my favorite part of the Outer Banks.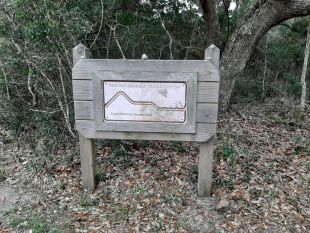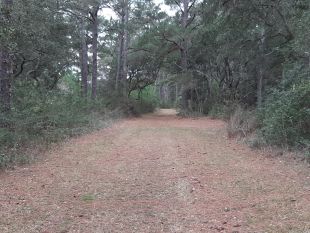 As you enter the Woods, you pass the British Cemetery, a gravesite for British sailors killed in World War II.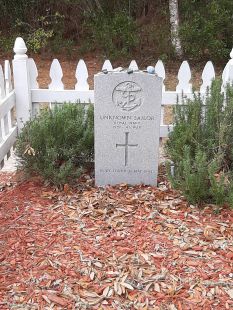 The path through here is very sandy, some packed, some loose. I de-sanded my shoes a few times. It can be a tough slog but I got better at picking the more packed route with time. I had just had elbow surgery, so my sling was a great spot to store my trail guide.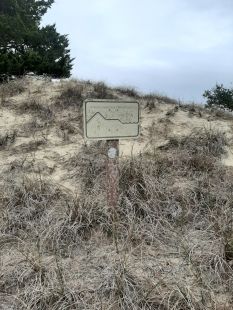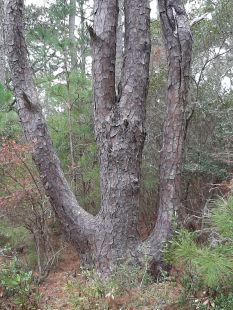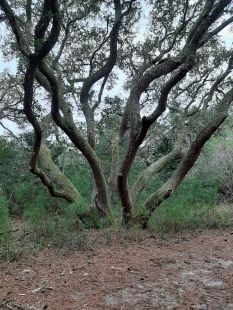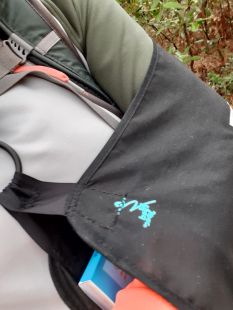 On this random January weekend, I ran into one person in Buxton Woods – Phoebe a thru-hiker! I also ran into Dan who was nearly done with his section hike of the MST. (And the next day, I passed Maddy, just a few miles from finishing her thru-hike!) You never know who you'll run into on the MST on a random weekend in the middle of winter.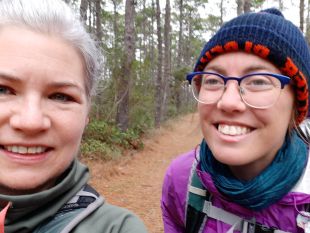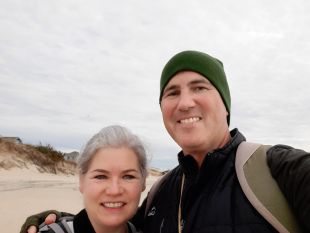 The 5.6 mile hike finishes at the beautiful Frisco Campground. I met a few deer, one with a spectacular head of antlers.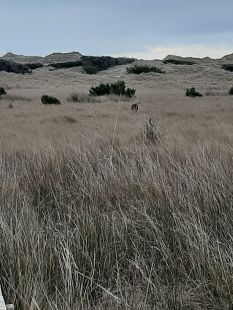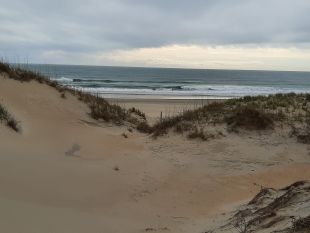 Though some of this hike is shaded in Buxton Woods, it would be a hot slog this time of year. But you can always pop off your shoes and pack and wade into the Atlantic to cool off.
We invite you to hike all 40 of the hikes in Great Day Hikes – take the 40 Hike Challenge!  If you've hiked one of the 40 Hikes, share your story with us. Hashtag #MST40Hike or email with your tale.