We are sharing tales from the MST as hikers are pursuing the 40 Hike Challenge. This week we are exploring the Eno River in Segment 10.
Great Day Hike #21 – The Eno River: Cabe Lands to Pump Station.  Friends' Coastal Crescent project manager Ben Jones took a hike on one of his favorite sections of the MST.
I have a special place in my heart for this hike and for the Eno River in general. My wife and I bought our first house together in 2015, just before getting married, and it happened to be a five minute walk from the MST and just downstream from this very hike. I've spent countless hours since walking with my wife, son (since 2018), dogs, and friends along the Eno falling in love with the Laurel Bluffs trail and all of its natural wonders. For me it is particularly comforting to hike here because it has the remnant glacial ecosystems from which the name "Laurel Bluffs" comes (Mountain Laurels) which have been, for me, like a little slice of my home in the mountains of NC (Hendersonville). My proximity to this trail was also the catalyst that connected me to Kate Dixon and the Friends of the MST. While in graduate school for Landscape Architecture I was so inspired by my time at the Eno River and on its adjacent trails that I reached out to Kate hoping to do something for the trail and I haven't stopped working with her on it since.
I began the hike at the Cabe Lands access, also known as the Eno Rock Quarry access, dropped off by a friend because the parking lot is still closed due to the pandemic and the water-filled quarry's proclivity for attracting large groups. This allowed me to follow the river downstream along the 3.5 miles of trail to the historic Pump Station and my car parked nearby on Rivermont Road. I walked at a casual pace, stopping along the way, and the hike took me approximately 2.5 hours.
This landscape is in many ways representative of North Carolina in that it tells a story of natural history and also one of human intervention with traces of native and 19th Century inhabitants fading under the relentless growth of a Piedmont Forest. The hikes begins with a slow descent into an increasingly natural landscape along a gently sloping rocky ridgeline eventually bringing you to a bluff with views and sounds of the Eno River meandering below. The trail then descends further through a steeper bluff ecosystem full of Mountain Laurels until you reach the edge. Arriving alongside the river the landscape flattens out and swaths of river oats line the sandy edges of the Eno. The trail then meanders through an always changing floodplain with old sycamore and hornbeam trees gnarled by the annual flow of flood debris. This convergence of these two worlds, floodplain and laurel bluffs, defines the rest of the trail here. As you hike you rise and fall through these worlds continually passing small tributaries and historic structures along the way.
The first major ruin along the trail is a homesite from the 19th century perched atop a bluff overlooking a bend in the river. All that remains are the foundation walls and chimney made of local stone, including beautiful white quartz.
After passing many more bluffs and "mountain-like" hollows, you arrive at the historic Pump Station. This sprawling area along the river has two dam ruins made of massive stone walls, one on a large tributary and one on the Eno itself. They were built in 1887 to provide Durham with additional water the city needed as its population grew and fires broke out regularly. These stone structures contrast starkly with the native vegetation growing all around them and spark the imagination. One can really journey through time on this hike and experience more than just an escape to nature.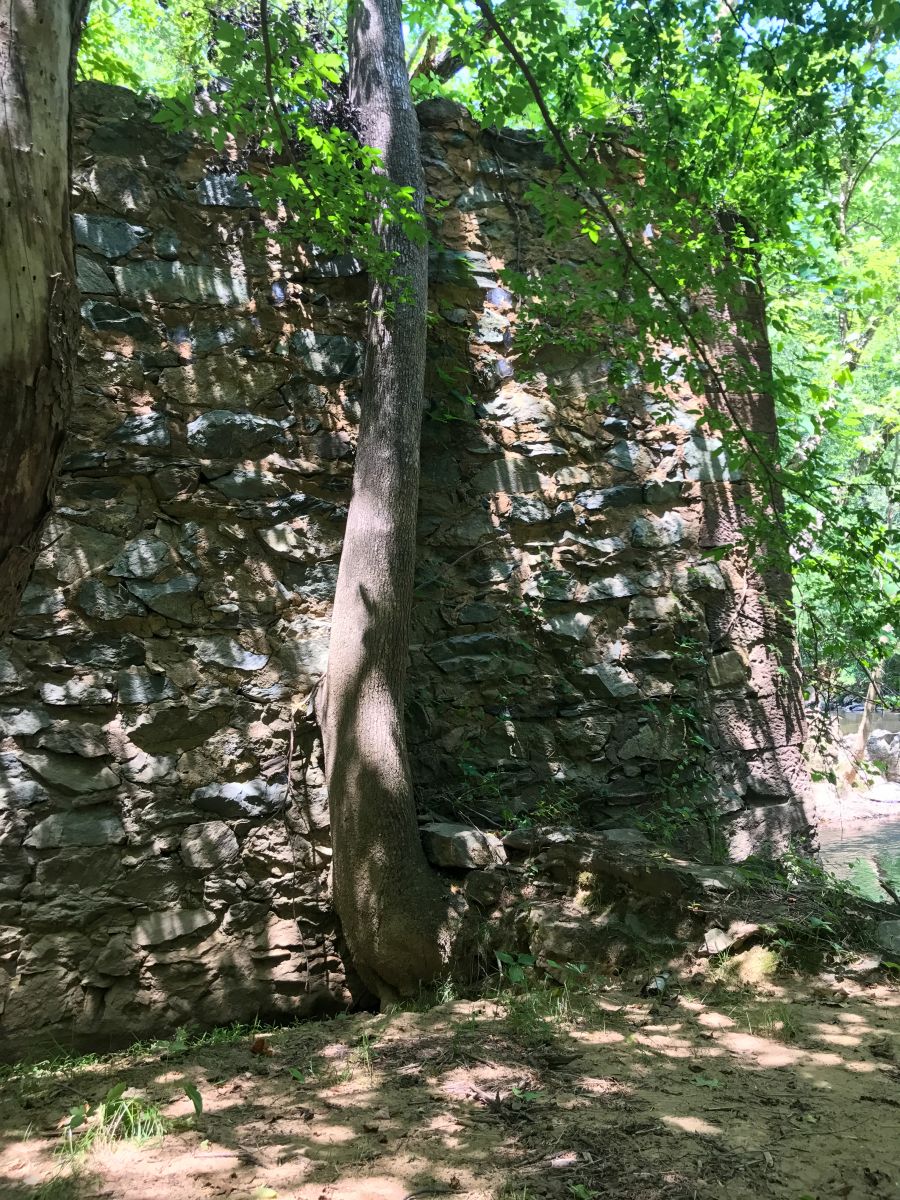 Lastly, I found it amazing that this wild and engrossing place is so close to one of North Carolina's largest cities and surrounded in many parts by neighborhoods. It is truly embedded in the community; a fact that makes it feel that much more special and unique. Too often our State Parks and trails are challenging to access and one has to drive considerable distances to experience them. I would argue that we should look to trails like this one for inspiration because there is so much more we need to protect and preserve around the places where we live, the places that can be a part of our daily and weekly lives.
We invite you to hike all 40 of the hikes in Great Day Hikes – take the 40 Hike Challenge!  If you've hiked one of the 40 Hikes, share your story with us. Hashtag #MST40Hike or email with your tale.