We are sharing tales from the MST as hikers are pursuing the 40 Hike Challenge.
This week we are exploring the trail Great Day Hike #5 The Shut-In Trail: Pisgah Inn to Mills River Valley Overlook (in reverse) in Segment 2 as hiked by Friends' Trail Resource Manager Jim Grode. 
As the rain came down harder and the temperature started dropping while I was setting my bike shuttle, I began to wonder whether heading up to the Shut-In Trail day hike on this particular afternoon was a mistake. Not that I was worried about my safety, but hiking, especially day hiking, is meant to be fun, and slogging through the cold rain isn't much fun. Fortunately, as I came out of the second tunnel, the rain stopped and the clouds even began to lift a bit.
The Shut-In Trail generally follows the route of George Vanderbilt's old carriage road connecting Biltmore to his smaller hunting lodge, Buck Spring Lodge. Although most of the road is gone, and the trail doesn't necessarily follow the old tread, a few traces remain for the observant hiker.
Coming from Mills River Valley Overlook (the opposite direction from the description in the book), the trail climbs gradually through hardwood forests for the first couple of miles. On this day, wildflowers were profuse: red fire pinks, yellow evening-primrose, purple spiderwort, orange flame azaleas. Even a few columbine were hanging on into early July.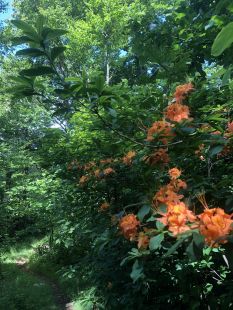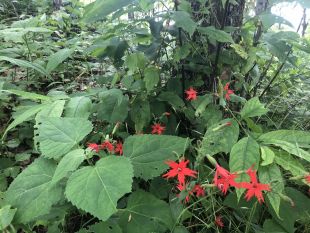 After crossing the parkway at the NC 151 intersection, the hike becomes a bit harder. The climb up to Little Pisgah Mountain rises about 750 feet in less than a mile—not exactly alpine climbing, but definitely enough to get the heart rate up. The other side of the mountain is much less steep, making this hike easier in the direction described in the guide.
Reaching the site of Buck Spring Lodge, I wandered around looking at the few remaining ruins for a few minutes before the clouds lifted a bit more, finally allowing the spectacular southern views to shine. A quick, flat jaunt back to the Pisgah Inn brought the hike to a close. My fears of a cold wet slog never came true, and the hike proved to be as fun as it's meant to be.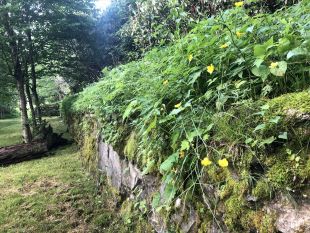 We invite you to hike all 40 of the hikes in Great Day Hikes – take the 40 Hike Challenge!  If you've hiked one of the 40 Hikes, share your story with us. Hashtag #MST40Hike or email with your tale.