We are sharing tales from the MST as hikers are pursuing the 40 Hike Challenge.
This week we are exploring the Great Day Hike #34 in Segment 16, The Northern Neusiok Trail: NC 101 to Billfinger Road hike by Ben Jones
When I was first dropped off on Billfinger Road, ready to hike back to my car on Highway 101, I thought why in the world am I doing this hike in August… I was convinced the heat would be oppressive and the mosquitoes were going to turn this hike into a run even with ample repellant. 
To my amazement though it was a dryer than usual and comfortable 1.5 hour August hike, which has me very excited to come back in the late Fall when I will be able to linger more and really absorb the surroundings. 
That said, I was still able to enjoy this beautiful, quiet, and wild place with so much to see. Croatan National Forest is often thought of as a wet, flat and relatively homogenous forest. That is not the case in this area, there is a lot of variety in both topography, soil, and plant communities.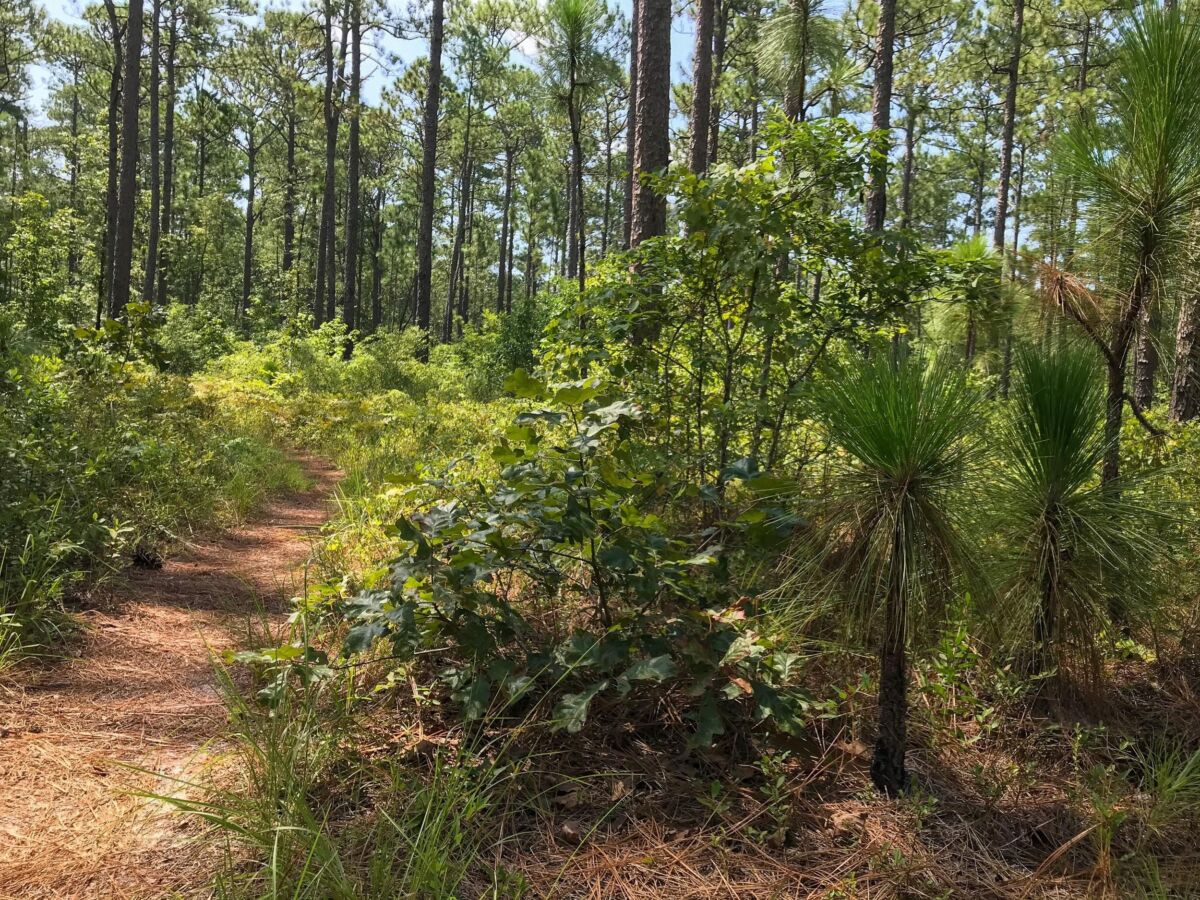 This section of the MST meanders through both the soggy, fertile bottoms that make up the headwaters of Mortons Mill Pond and towering Longleaf Pine stands on the sandy ridges. These two distinctly different ecosystems and the transition zones between them make for a constantly intriguing hike with tons of unique wildlife.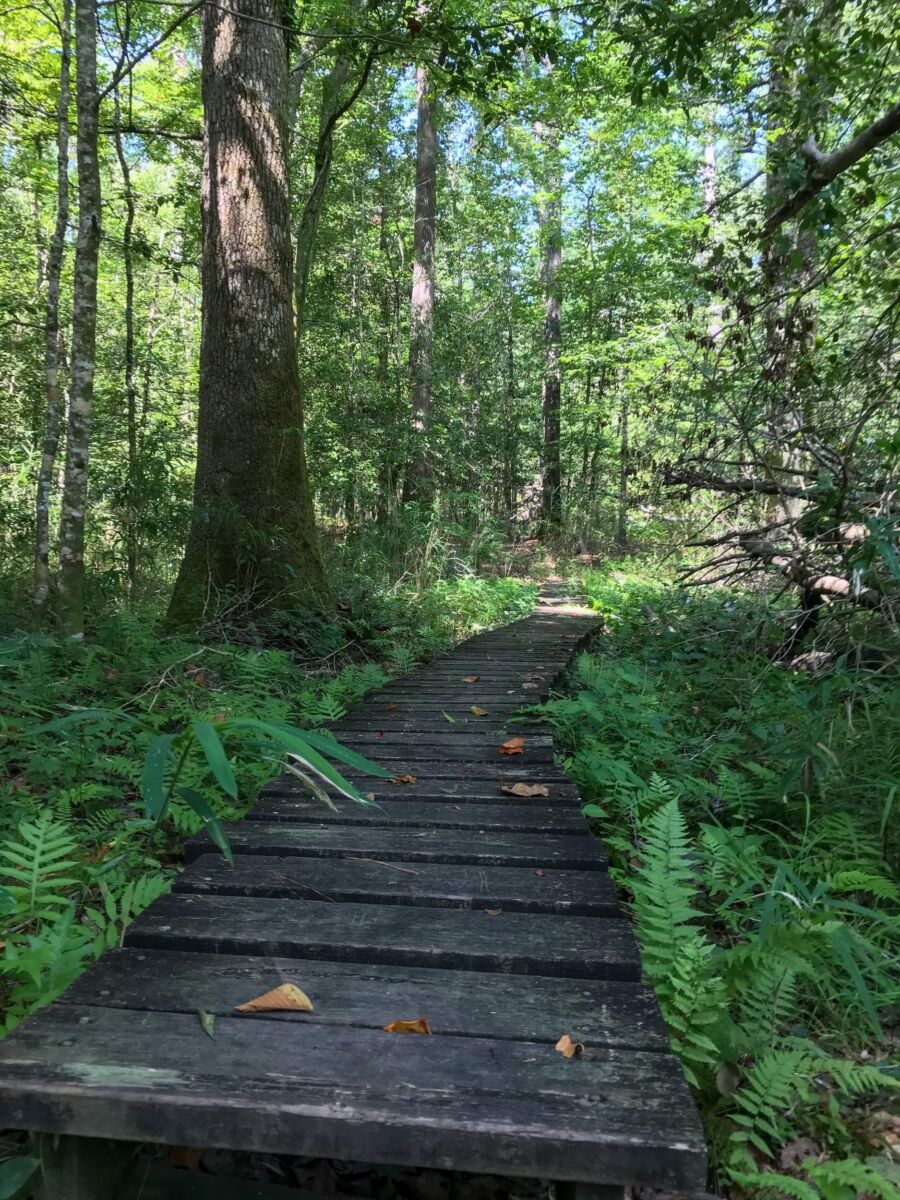 About halfway through the hike the trail crosses through the largest section of bottomland forest and a number of wooden boardwalks across the floodplain of Mortons Mill Pond Creek. Here I heard constant birdsong and was under a dense shaded canopy with the beautiful smooth bark of Bald Cypress, American Holly, Sweet Bay, and American Beech trees. If it were not for the bugs I would have set up a hammock right there and just let the birds sing me into an afternoon nap.
After this, heading North toward 101, the trail quickly transitions into the dryer and more open Longleaf Pine forest as you head up-slope. For the remainder of the hike I was surrounded by towering pines, blue sky, and a dense 3-4 foot tall thicket of vegetation that at times formed a striking green tunnel around the trail.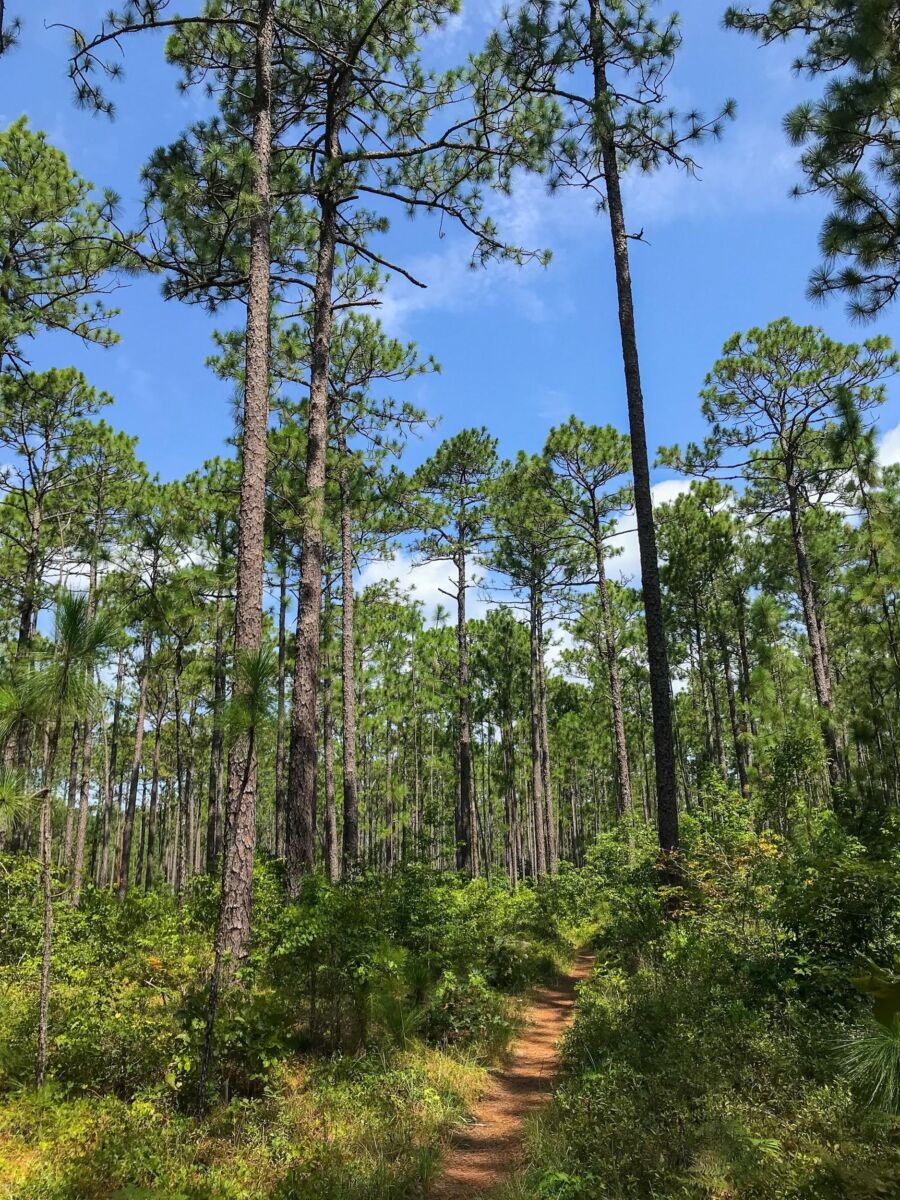 In this dramatic, fire-prone landscape I was surrounded by Switch Cane, Bracken Fern, Wiregrass, Turkey Oaks, Blueberry, and a number of herbaceous flowering perennials. I wasn't lucky enough to see the endangered Red-Cockaded woodpecker but I did see a number of cavities on standing pine snags, another reason to return in the Fall when I can linger.
As I approached the end of the hike coming through the tunnel of green, beginning to hear the traffic on 101, I couldn't help but think about the first explorers in this rugged landscape chopping their way foot by foot through this shrubby thicket. It's enough, even in these upside down times, to make me quite grateful to be a man of the modern world. With that in mind I emerged out of the forest into the bright sun of the trailhead parking area on 101, hopped into the oven that was my car and begrudgingly returned to the world of people. I will be back, and I definitely recommend this easy to access and quick hike through the wild of Croatan National Forest.
We invite you to hike all 40 of the hikes in Great Day Hikes – take the 40 Hike Challenge!  If you've hiked one of the 40 Hikes, share your story with us. Hashtag #MST40Hike or email with your tale.