We are sharing tales from the MST as hikers are pursuing the 40 Hike Challenge.
This week we are exploring the trail Great Day Hike #22 in Segment 10, The Falls Lake Trail: Rolling View State Recreation Area to Little Lick Creek hike by Nancy Luberoff
I hiked "The Falls Lake Trail" in-and-out (about 9+ miles total) on a typically hot North Carolina summer afternoon. I was thrilled that nearly the entire trail was in the shade. There were cool breezes coming off of Falls Lake and there were several places where we could walk down to the water's edge and splash water on our sweaty faces. We only saw 4 other people, all hiking the trail to find a quiet spot to swim and relax at the shoreline of Falls Lake.
It is a lovely hike with enough elevation changes to make it interesting, but not exhausting. I recommended the hike to a friend, and she also really enjoyed it.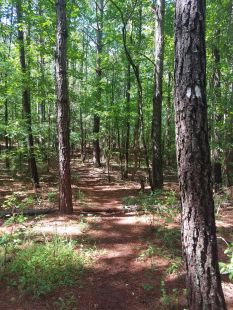 The directions in the guidebook are excellent and we had no trouble finding the trailhead or staying on the trail.
Here are a few notes/additions:
• The parking lot at the beginning of the trail on Jimmy Rogers Road has been closed due to excessive late night activity along this part of the trail.  Please use Cheek Road to access and do the hike as an out and back.
• The hike officially ends at the midpoint of the bridge. But definitely keep going all the way across the bridge and across the boardwalk to the other side. At the other side of the boardwalk there is a lovely picnic table right at the water's edge, fully in the shade. The picnic table has fine views of the cypress trees in the lake. One tree appears to have Christmas ornaments in the branches, but they are actually stray fishing bobbers.
• Be prepared for the noise of big motorboats, jet skis, party people, and some loud music blaring from boats.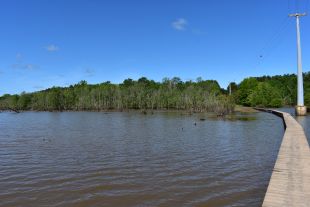 Thank you for this wonderful new guidebook!
We invite you to hike all 40 of the hikes in Great Day Hikes – take the 
40 Hike Challenge
!  If you've hiked one of the 40 Hikes, share your story with us. Hashtag #MST40Hike or email with your tale.