In 2021, MST volunteers put in over 38,000 hours of labor!
Workdays along the MST are planned and managed by 20 volunteer task force leaders. The task forces are focused in geographic areas along the trail. Many volunteers work in one or more task forces, as they are willing to travel a short distance to work on other parts of the trail. We particularly need more volunteers along some of the lesser populated regions of the trail like the Coastal Crescent and the Outer Banks.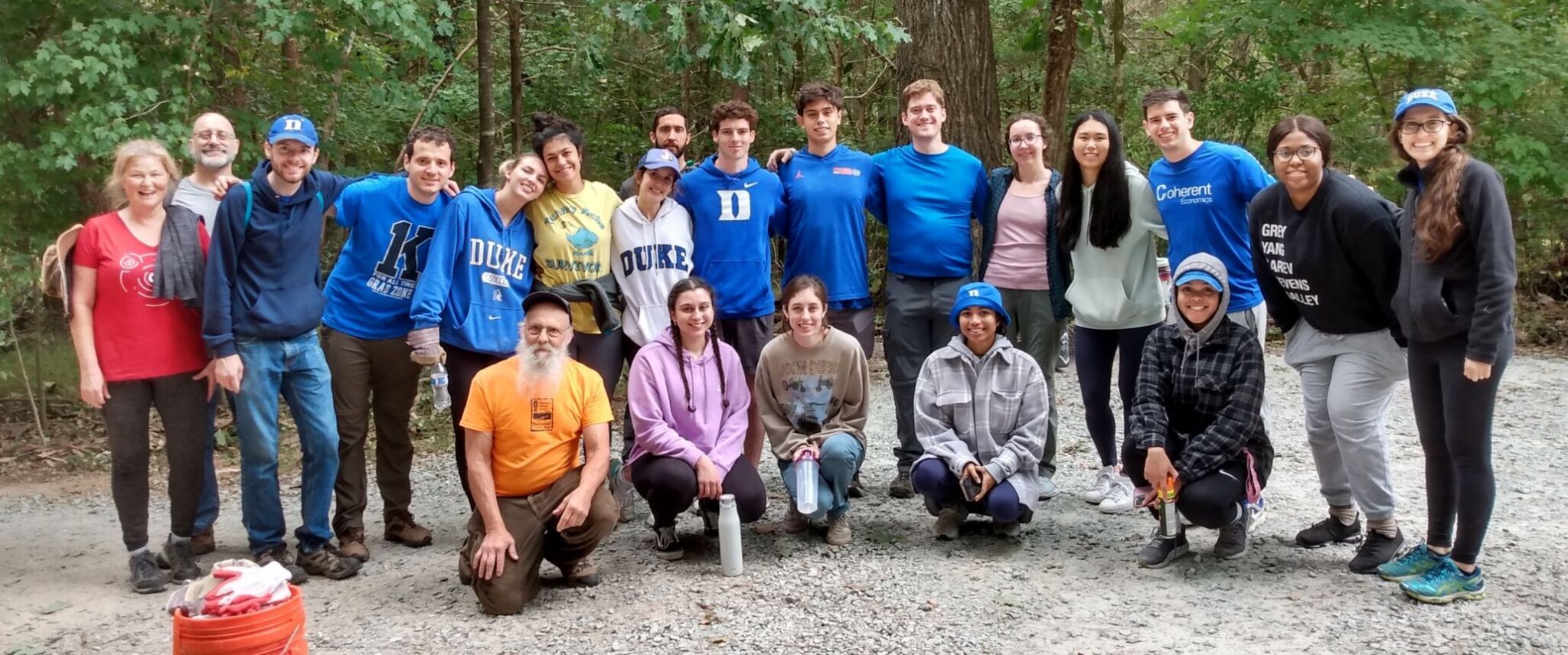 Workdays may involve new trail construction or maintenance of existing trail. Work may include using a rake and mattock (similar to a pickaxe) to dig new trail and remove small roots, clearing brush, moving logs, and picking up debris. Generally, we will supply most of the tools for workdays, but extra loppers and mattocks are welcome.
Most of our workdays are suitable for all types of experience levels. Volunteers are friendly and eager to share their knowledge, so even if you've never worked on a trail, we welcome you to lend a hand. The only exception to this rule is for chainsaw operations – all sawyers must be certified to work on the MST. We offer certification classes once a year, usually in December, and the task force leaders will share that information with you if you are interested.
When you attend a work day, please wear work clothes and bring a bag lunch, plenty of water, work gloves, hiking boots, and sunscreen. Sorry, no dogs are allowed at our workdays for safety reasons. If you are under the age of 18, please consult with the leader before attending workdays.
If this sounds like something you are interested in, please contact the task force leader in your area to join their volunteer groups. The segments listed correspond to the segments of the trail. If you cannot figure out the best group for you, we can help you figure that out – just email info@mountainstoseatrail.org with your questions. Most workdays are listed on our calendar.
If you live out-of-state and travel infrequently to North Carolina, please look for volunteer opportunities on our calendar and reach out about those specific events. The contact information will be in each event. If you don't see any listed during your visit, you can reach out to the task force leaders to see if there are any individual projects that you could assist with.
Thanks for your interest in helping us build and maintain the MST. We look forward to seeing you out on the trail!
Trail Builder Resources

TRAIL BUILDING CLASSES:
Duke Energy TRAILS at Rockingham Community College has developed a sustainable trail skills training sequence of classes for varying skill levels, interests, and needs.
Several courses are offered in two formats to meet student needs and time availability.
* Single day classes provide basic information specific to the course title.
* Multiple day classes provide the same information as the single day classes listed under them and often include additional topics and fieldwork.
Lecture, discussion, and experiential activities/fieldwork are combined to help students completely comprehend the course content. For more information, click here.