I was born and raised in a small town in Eastern North Carolina.  Except, for college, law school and 3 years working in Jacksonville, NC, I have lived my whole life in the town of Roseboro (not to be confused with Rose Hill). Roseboro lies in the middle of rural Sampson County, an hour south of Raleigh, an hour north of Wilmington, and 25 minutes east of Fayetteville. 
In the 1890's, Roseboro began as a depot site for the railroad running from the Wilmington area up to Fayetteville. Originally there was passenger as well as freight service.  However, by the time I was a small child, it was only freight and maybe 1 or 2 trips a day.  I vividly remember watching the train slowly going through the center of town or stopping and blocking traffic for a short while. The train and the tracks are long gone, and I regret that people back in the 70's did not have the foresight or vision to try to keep the rail corridor.  Now, only a mile or so through the center of town is still owned by the railroad.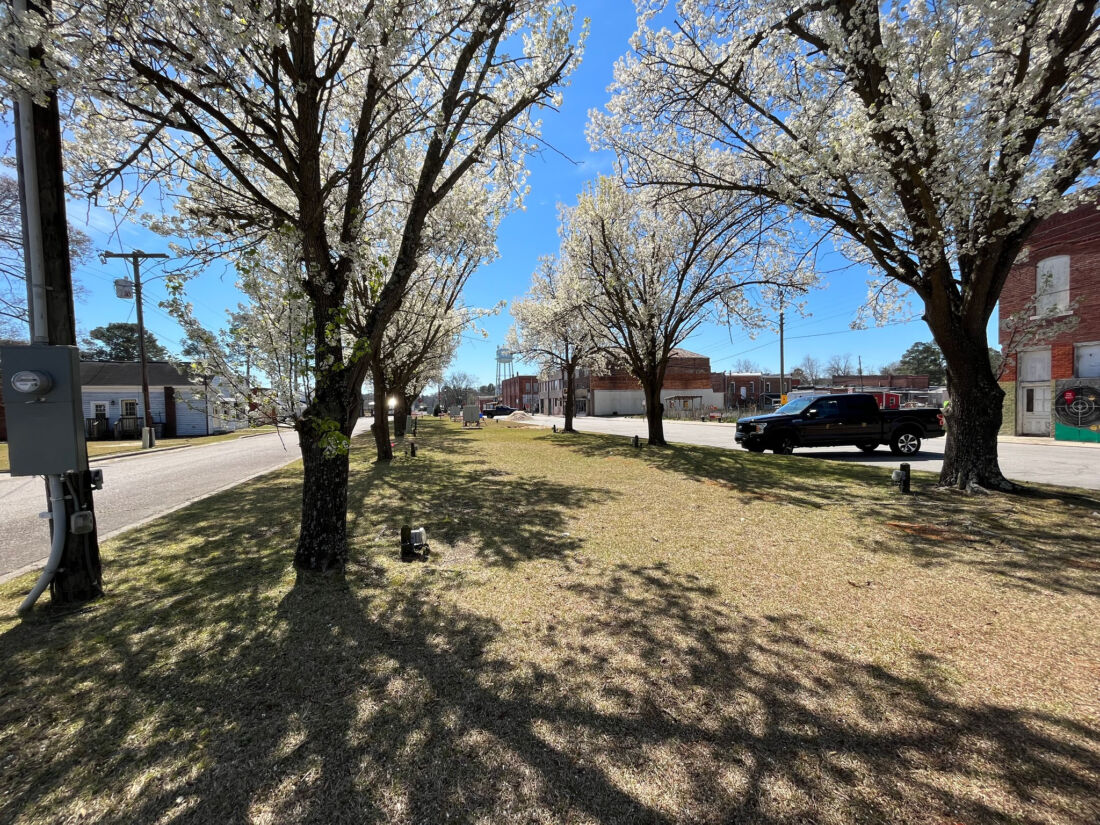 While I have on occasion enjoyed hiking up on Grandfather Mountain or visiting a waterfall, I have never been much of a hiker.  You see, around where I live, the nearest State Park is over 45 minutes away, and while we are surrounded by fields and woodlands, the land is privately owned and has not been open for building trails and hiking. 
Instead, I have focused on cycling the lightly traveled and mostly flat roads around my hometown and on the Blue Ridge Parkway near West Jefferson, NC. Prior to the Coastal Crescent Route's creation, I was only vaguely aware of the Mountains-to-Sea Trail (MST).   
With the creation of the Coastal Crescent Route, my wife and I learned that the trail would go through the center of our town and then right past our front yard.  When we realized that, we found ourselves being swept up into the vortex that is the MST, a magnificent idea that was proposed 45 years ago and has become a reality that is constantly changing and improving.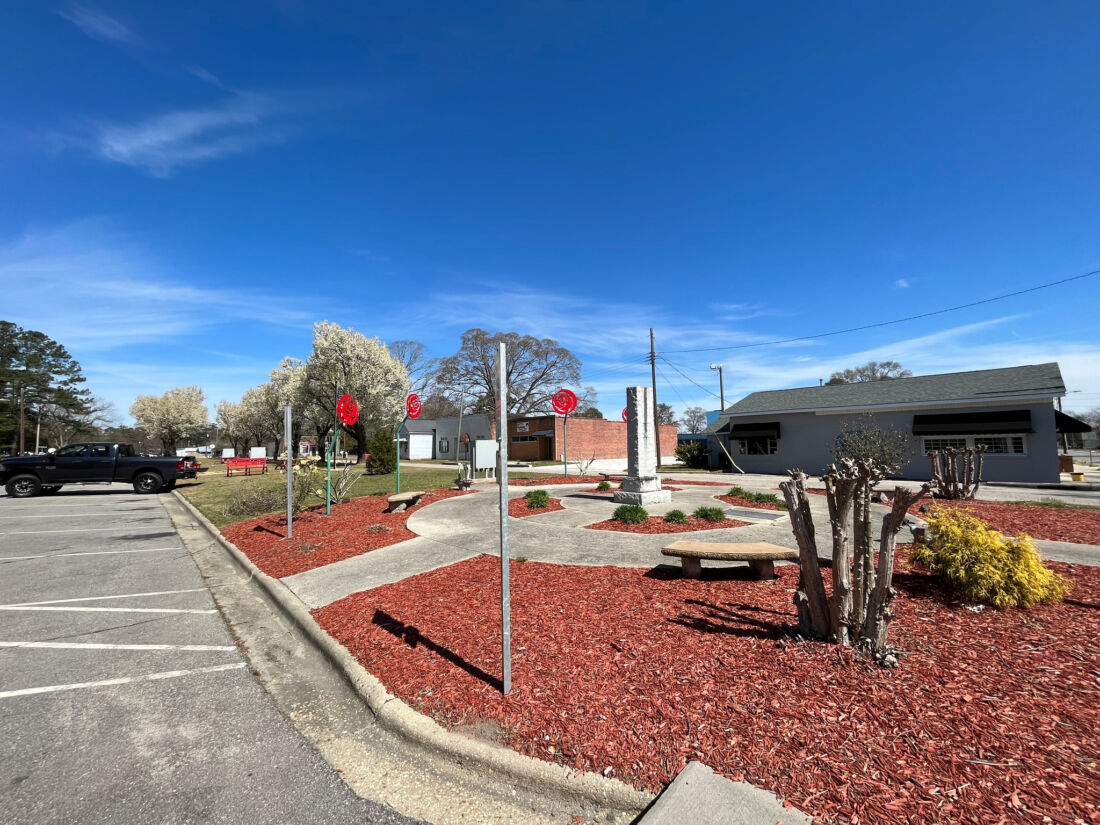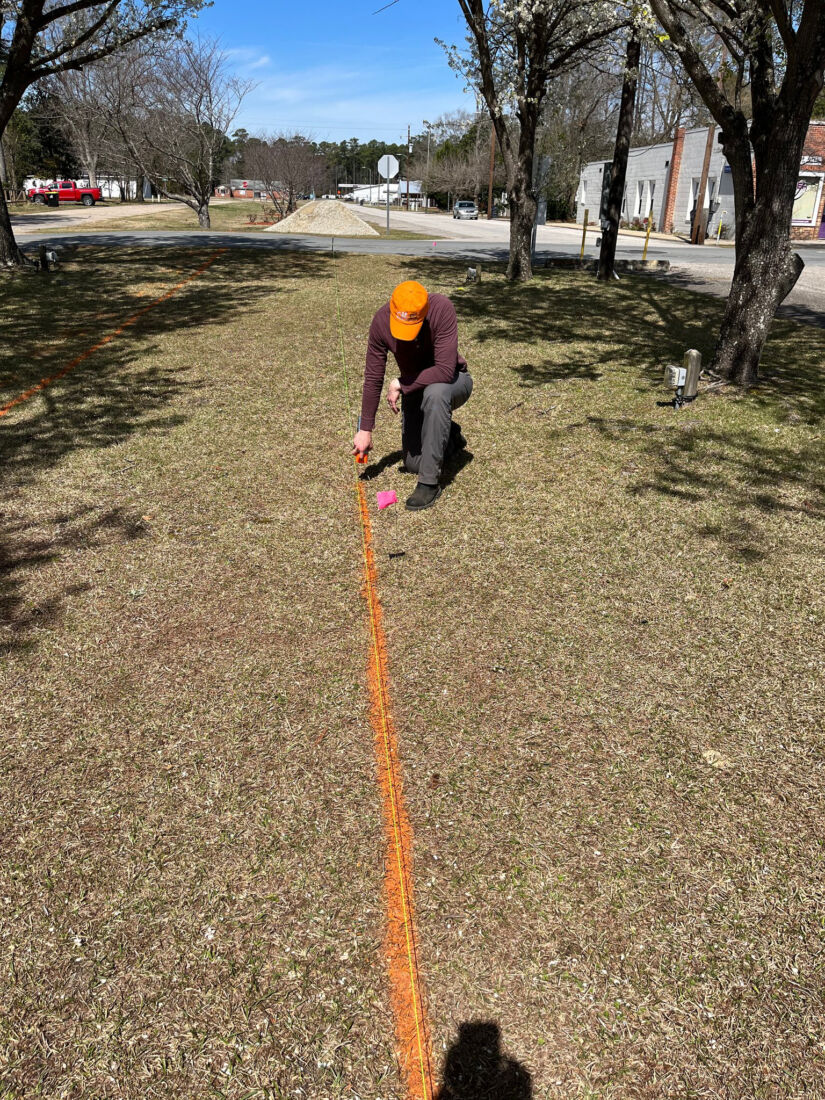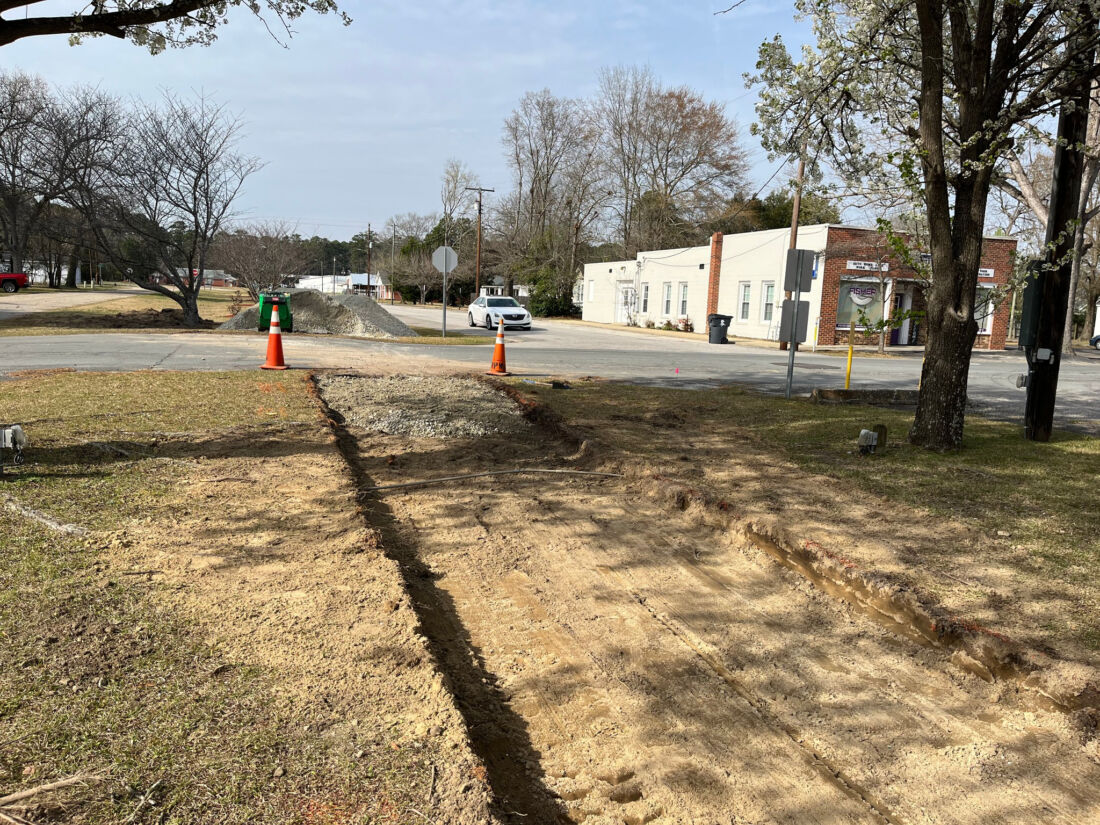 We started off by offering our home and our time to hikers, including shuttling them to and from their place on the trail. I quickly learned that if you pick someone up at location X, then you needed to return them to that exact location the next day for them to continue their hike.  I learned that you don't just drop them off in the vicinity, it had to be the exact driveway, road sign, or intersection where they had left off.  In addition to shuttle service, we have had the pleasure of numerous thru and section hikers spending the night, and often two, at our home.  It is so interesting, meeting and talking with the hikers, and I can say without doubt, none have left our home hungry, with dirty clothes, or lacking a good night's sleep.  
I have a running good-natured feud with the Beaver Dam Fire Department (BDFD) and Chief Brock.  The (BDFD) is located on the trail about 7 miles west of our home (but is east of our location trail wise).  While I will admit that they do a pretty good job hosting hikers, I still say we are the "Ritz" to their "Fairfield Suites".  Just because the (BDFD) hosted and nursed an injured hiker for 10 days and even paid for his transportation home so he could continue to recover before completing his hike, doesn't make them the best trail angel in the area in my opinion (though admittedly, that is hard to top).  The point is, the more you get involved building trails, hosting hikers, HIKING yourself, or advocating the government and individuals to allow access to build trails off the roadway, the more you get sucked into this  idea of a trail across the State of North Carolina that not only traverses urban and rural areas, but goes from the mountains, over the foothills, across the coastal plain, down to the sea shore and to the sandy heights of Jockey Ridge.
Recently, I have watched and helped as Ben Jones of the Friends of the MST has designed and then built a brick path along the old railroad bed in Roseboro. Carrying bricks, shoveling sand, and hauling heavy-laden wheelbarrows is hard work for anyone.  My wife, the mayor of our town, was quick to volunteer…me, to work in the heat. They say what doesn't kill you only makes you stronger.  I am not so sure.  I don't think I got any stronger, but it darn near killed me, or so I claim in the hope I can get some sympathy from my wife. So far, that has not been working out for me.  Ben on the other hand, after having worked tirelessly for a couple of months of hard labor is now contemplating competing in the Mr. Universe contests.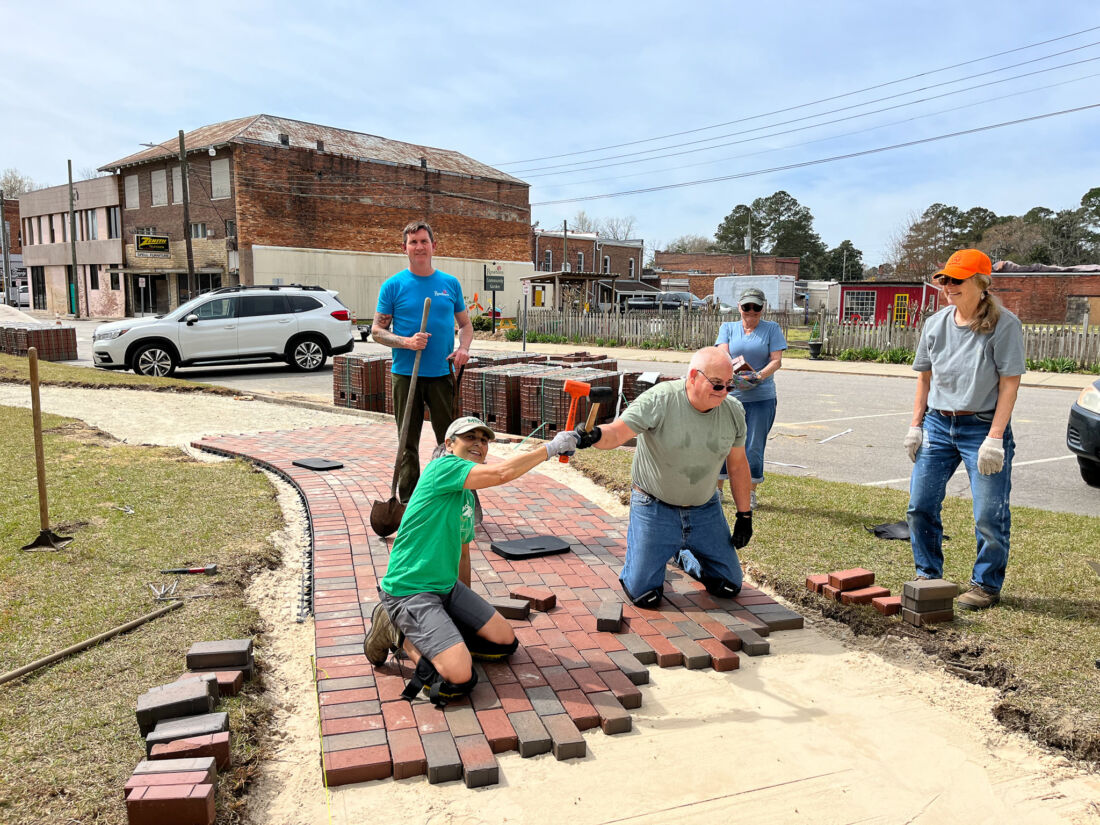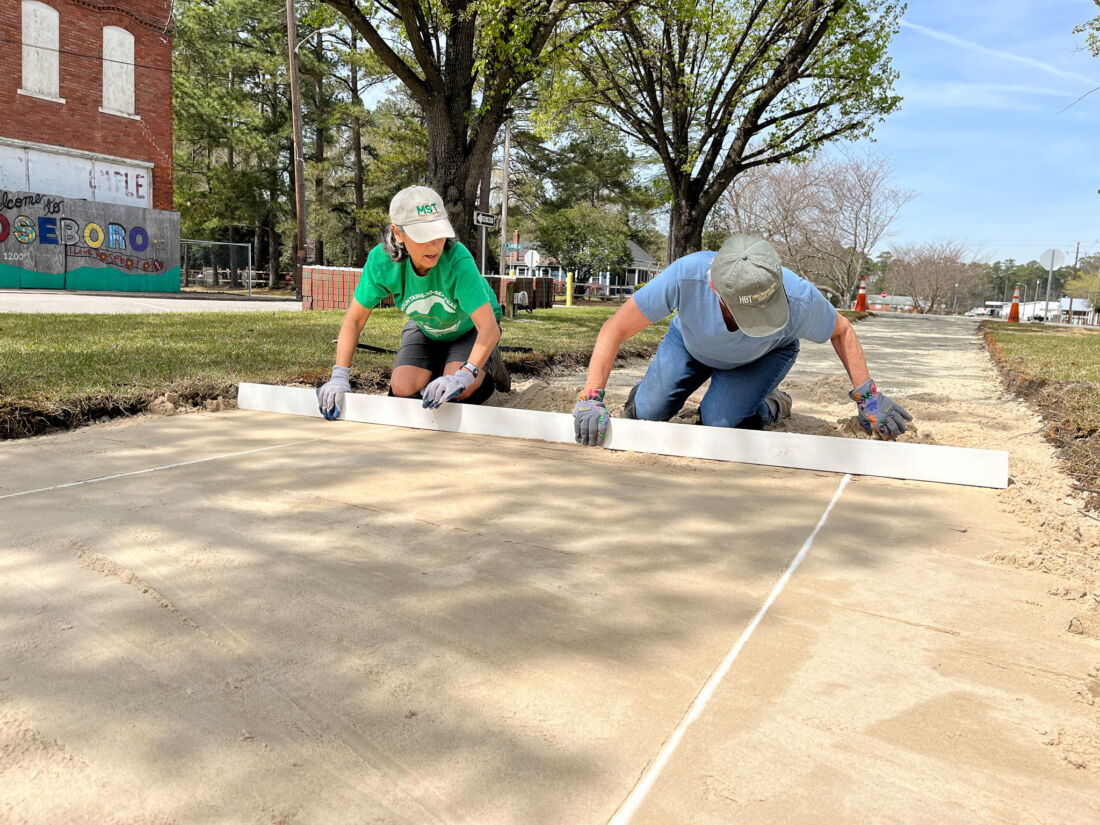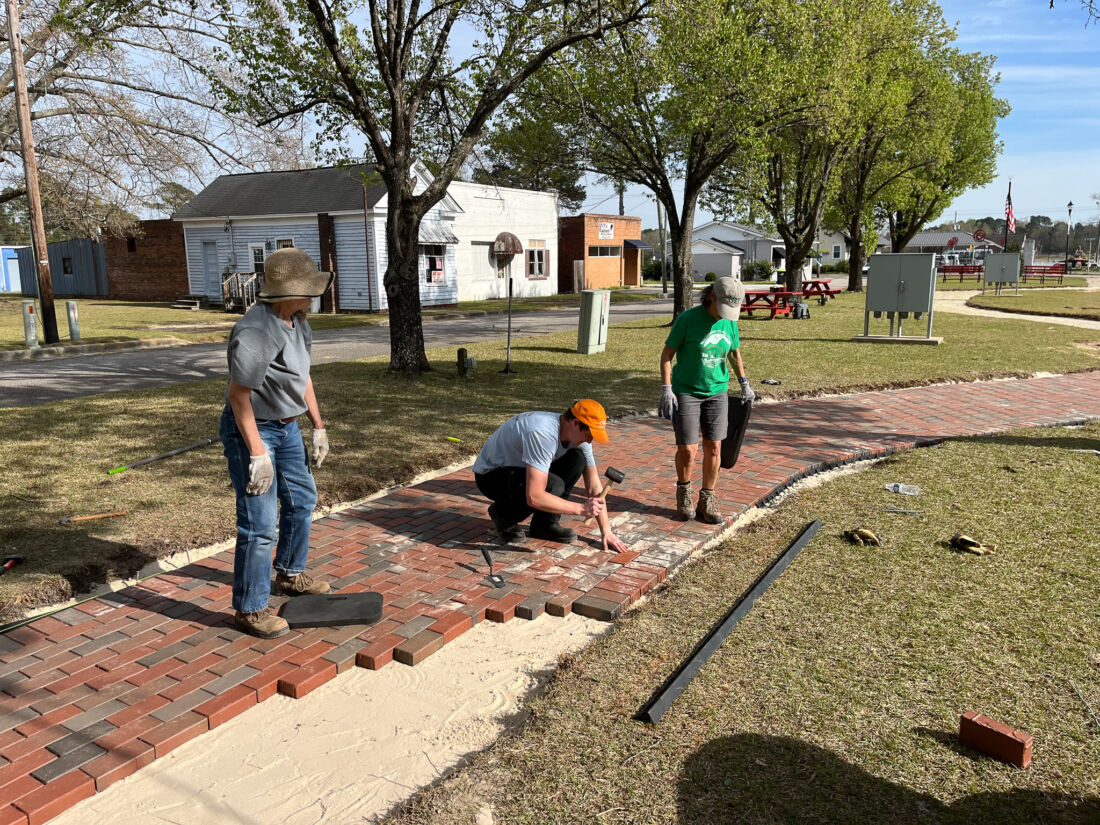 We appreciate all the MST friends who came to work on the brick path, most had little or no connection to our community except for the MST.  Many had to drive three hours + roundtrip to come to our town and work for hours laying the brick walkway. What a dedicated group!  
The brick pathway will become the centerpiece of the section of trail that will connect Roseboro with a trail that will pass through the nearby Pondberry Plant Preserve, thus eliminating over 3 miles of roadway hiking on a very busy road, while allowing local residents, day hikers, and thru hikers to have access to public hiking trails right here in Sampson County.
You remember that old railroad bed that I mentioned earlier? After sitting dormant for almost 50 years, a section of it is now part of the MST.  In fact, the new brick pathway has repurposed a block of the old railroad bed to become the heart of the Mountains-to-Sea Trail in Roseboro.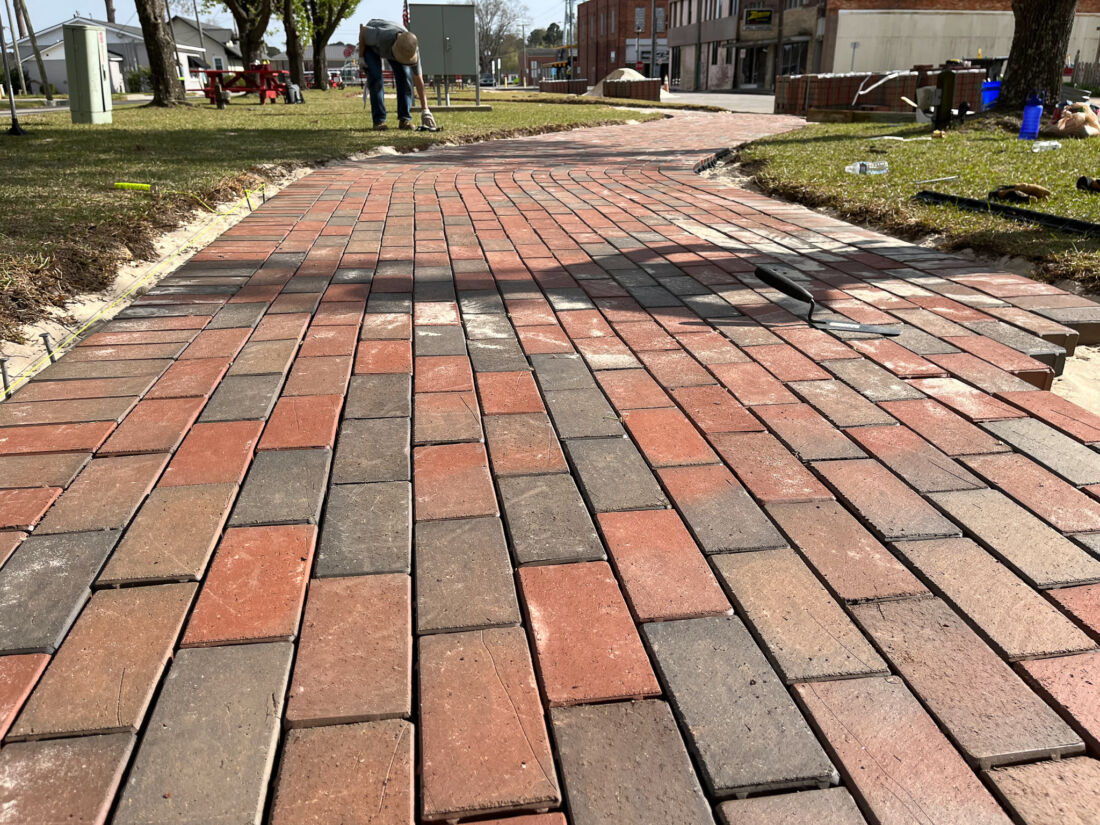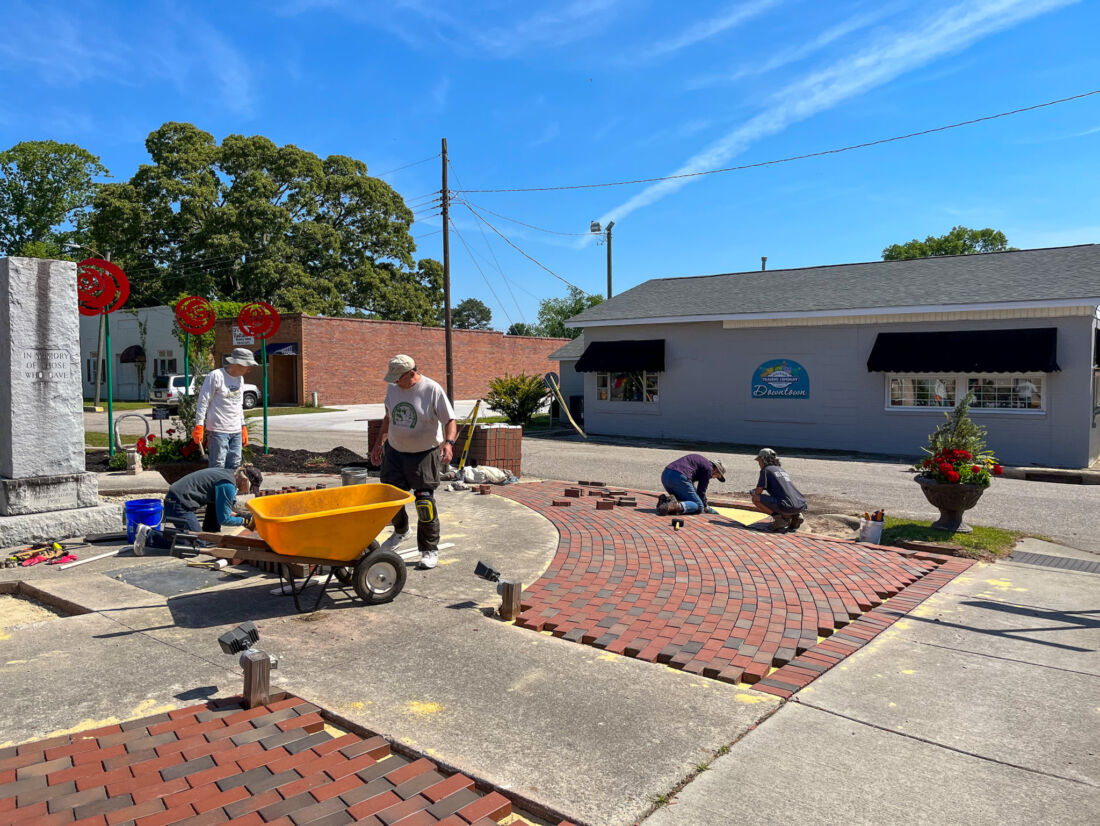 For so many years, most people around here knew nothing about the MST.  However, as more and more have become acquainted with the trail and its purpose, we often hear from local residents who saw a hiker and will often stop and talk to them. Many have met a hiker at one of the local restaurants. The trail and all the attention and focus on our area from the Friends of MST, has resulted in greater awareness, support, and ultimately the use of the trail by our local residents. 
A few years back, my wife and others decided to rebrand our town using the rose theme and the motto of "Take Root and Bloom." While the new branding has been great, I still have a special place in my heart for the former slogan, which I believe is as true today as it was many years ago.         
"Just Good Folks."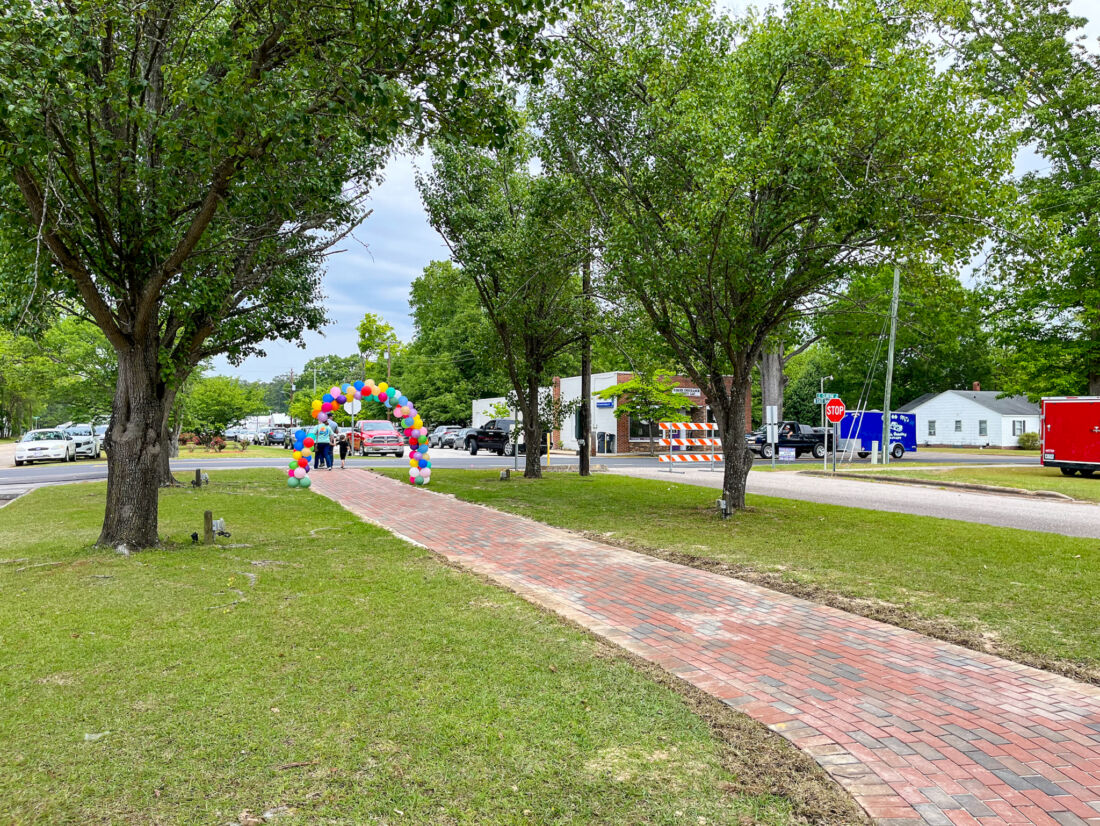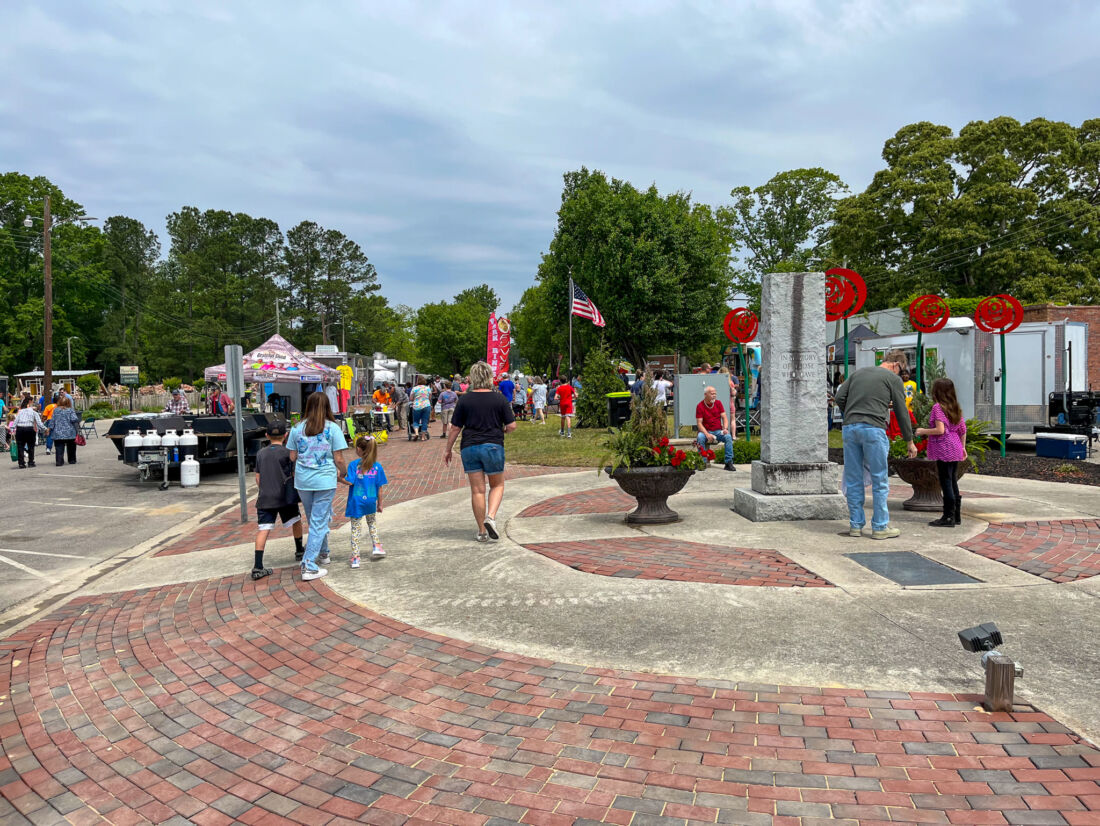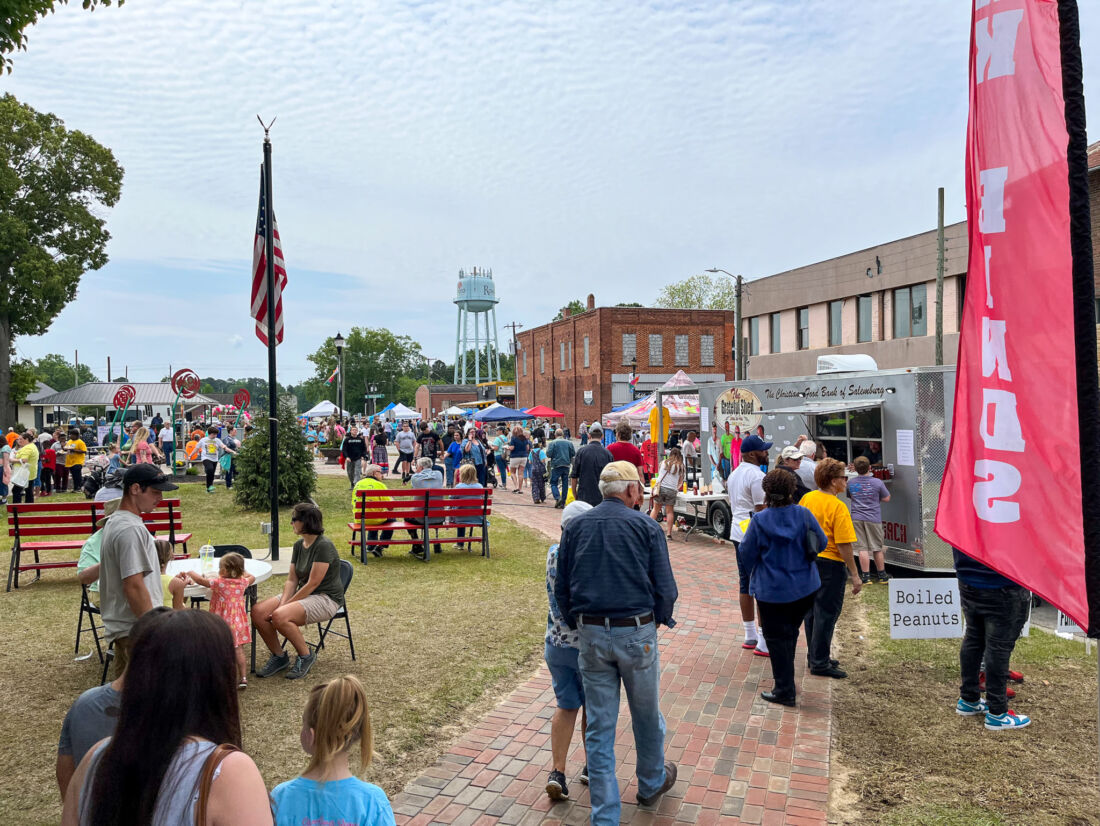 I encourage anyone reading this to come on down to Roseboro.  Walk our loop trail through town that is listed in the 40 Great Day Hikes book.  In doing so, stop and smell the Roses, pun intended, enjoy our small-town atmosphere, and meet some of our "Good Folks."
-Greg Butler