As expected, fewer people have hiked (and completed) the Mountains-to-Sea Trail this year than in recent years. For those that did, they had to be incredibly self reliant. Most trail angels weren't offering rides or places to stay this year. Many in town services were limited or nonexistent. There was a pandemic to contend with. Etc.
One recent completer, Graham Zimmerman, says that despite all of those variables, the MST was the most rewarding experience of his life.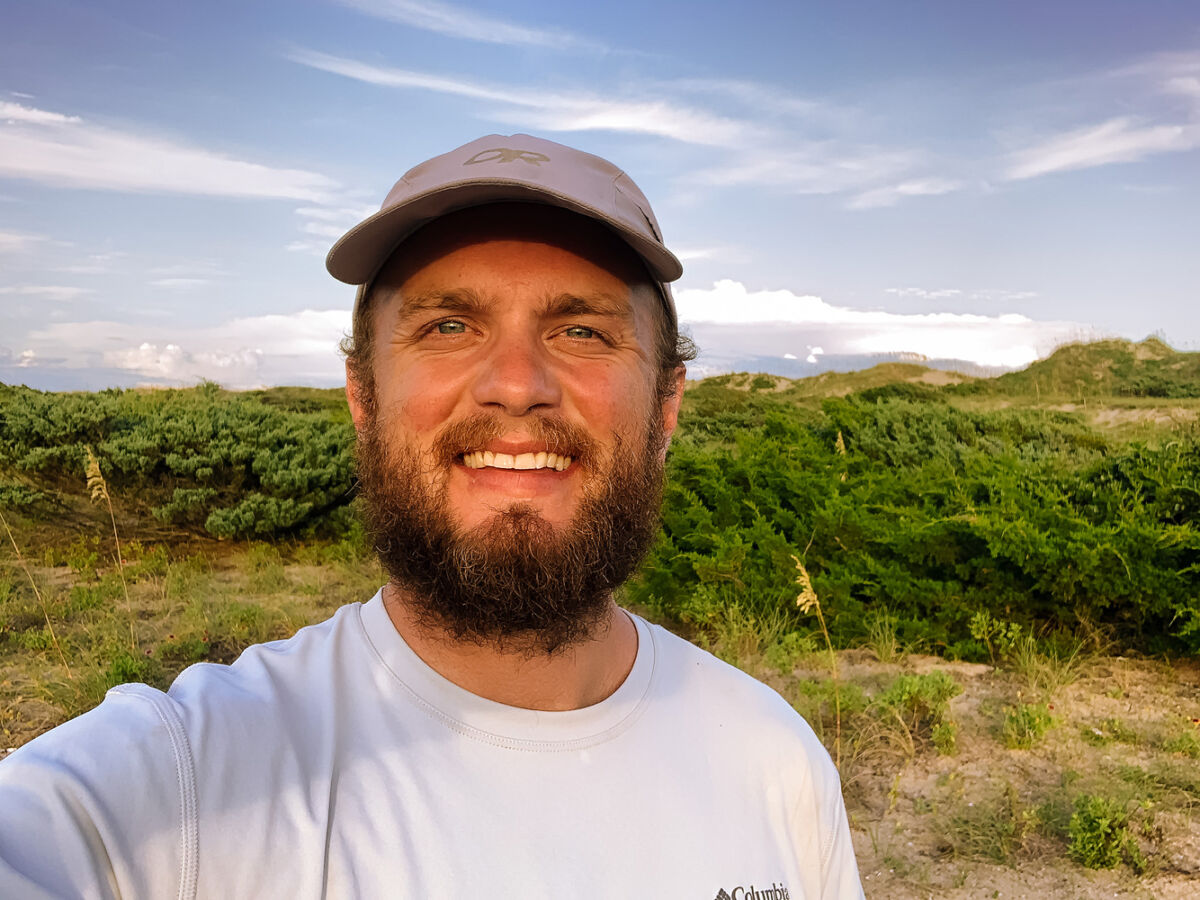 Please describe below a few highlights or unique aspects of your hike, or use this space for feedback/suggestions for Friends and our volunteers as we are always looking to improve the hiker experience.
There are too many highlights to share. The MST was the most rewarding experience of my life. I chose the MST because I wanted to see NC, it was close to home and it was a shorter trail (relatively) than other long-distance trails.
Here are a handful of highlights:
The mountains seem like a blur to me now, but I remember the second week was the hardest. It rained for four days straight as I headed over Mt. Mitchell and through Linville Gorge to Boone. I had been to the Gorge probably a dozen times, but never traveled across both rims in one day. It rained on me four times that day: crossing the Linville River, ascending Shortoff, hiking the rim and then after setting up camp at Table Rock. But I felt more accomplished that day than I had on many others.
Holly Shelter was one of the toughest sections of the trail for me. 19 miles with no water sources took its toll on me, especially considering I was travelling through in August. Leaving the bog and heading into the pine savannah was beautiful. I also knew I would be reaching Surf City and the beach later in the day. Heading out of the solitude of Holly Shelter and onto 17 was a complete 180. The noise and traffic made the journey difficult. But I will always remember reaching the apex of the Surf City bridge and breaking into tears as I saw the Atlantic Ocean. That was an incredibly special moment.
I loved staying at larger campgrounds more than camping alone. At every campground I went to, people would see I was without a vehicle and come up to ask what I was doing. It was those fleeting, temporary conversations at the end of each day that made the trip so worthwhile.
As difficult as the trail was, I loved it. I loved the daily, hourly challenges I ran across. I loved the sudden rebalancing of time and priorities that were forced on me. I loved having nothing to do except walk, eat, drink water and sleep. I loved learning new things about myself and pushing my body. I loved experiencing the natural beauty of North Carolina. I loved how the trail continually brought out the yin and yang of suffering, anger and frustration, gratitude and joy. Thru-hiking is a very human experience, and this trip gave me the chance to explore the wonders of life.
Do you have information on signage…
The only thing I would say about the trail guides is the mileage seemed off in the mountains, essentially up to Elkin. It seems longer than the trail guides said, but I didn't measure.
There's no way around Jacksonville other than the current route, and I don't think it makes sense to remove Holly Shelter and move the route eastward to Havelock, but the traffic around Jacksonville was probably the most unsafe I felt on the road sections.
Would you like to recognize any special people….
The people I met were one the biggest highlights of the entire experience:
The couple from Wisconsin on the first night in the smokies who I shared a campsite with. Sharing a campsite on the first night helped my anxiety of the upcoming trip.
The caretakers at Mile High campground who let me charge my devices and the family camping next to me who left trail mix by my tent the next morning.
Bob and Diane at Black Mountain who gave me a corner of the campground to set up a tent after it was all full.
Paratrooper Goofy Lane, who I met camping next to the BRP a few nights before Elkin. He was an interesting character.
Suzanne and Bob Puckett who gave my parents and I a great lunch and conversation in Elkin.
Brother CJ, who I met in Hillsborough that introduced me to his friend Mickie Mills. Mickie gave me a healing stick and mason jar of hot sauce for my journey.
Tim and Cathy Supple, who took me out to eat, introduced me to their hiking club and helped me with logistics through Holly Shelter.
The owner of the ice cream shop next to Jockey's Ridge who saw me hiking towards the terminus and offered free ice cream.
Numerous caretakers throughout the trip at campsites who wanted nothing more than to help me without asking anything in return.
So many others who I met hiking, usually heading in opposite directions, that helped brighten my day.
Congratulations Graham on the completion of your Mountains-to-Sea Trail adventure!
You join a Wonderful List of folks who have completed the trail in some form or fashion from the mountains to the sea. Some people walk the entire way, while others may bike or even paddle part of the MST. Some folks complete the trail really really fast (29 days), while others take their sweet time (15 years to the day). We always love when we receive a new Completion Form in the mail and eagerly await the next one. So, get out there and get hiking (and biking and paddling) and send us those completed forms!