By Dottie Cooke, Betsey & David Horth
After walking several pilgrimages in Spain, Scotland, Italy and Israel over the past three years with our church, Holy Trinity Episcopal Church in Greensboro, NC, a group of us hoped to replicate the experience in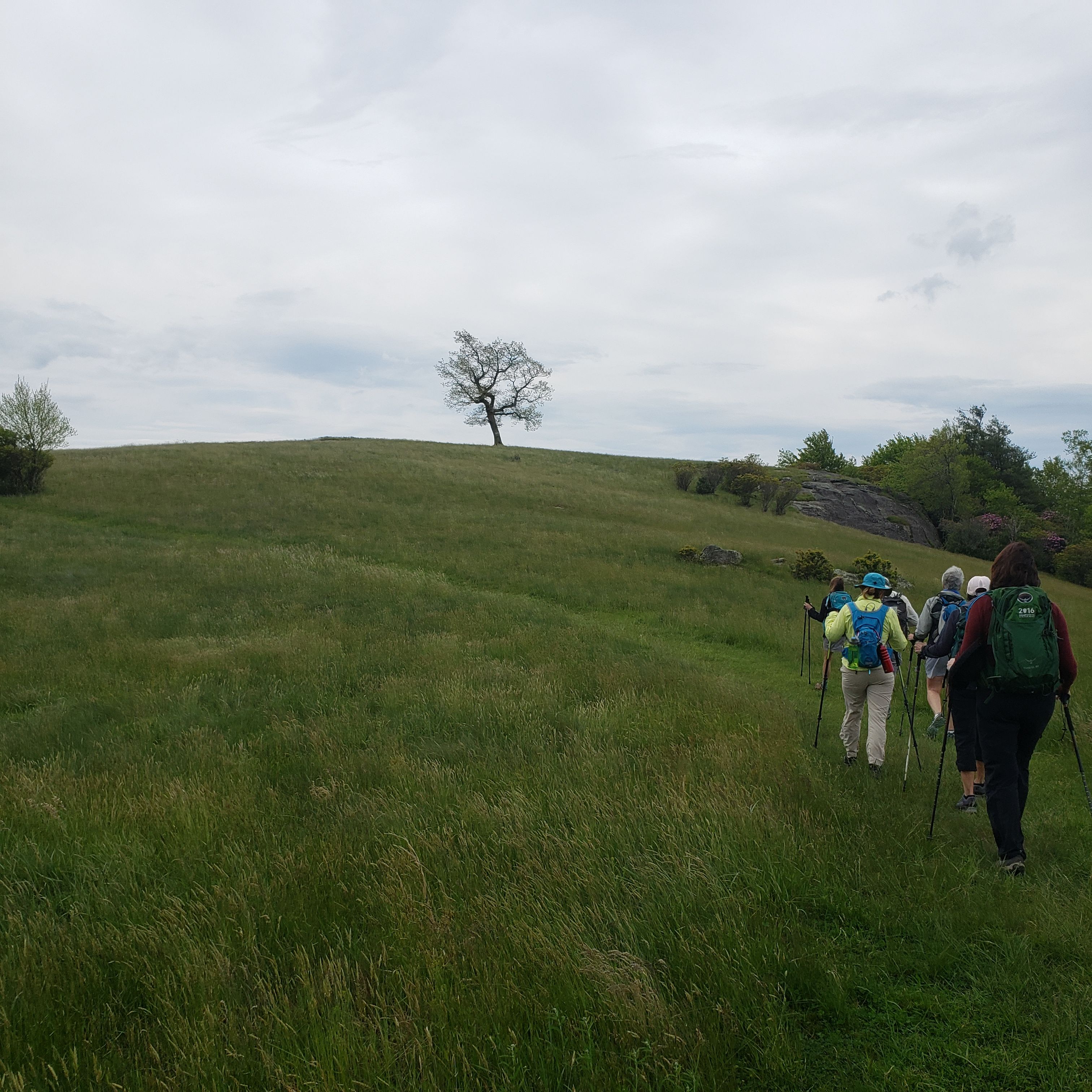 our own backyard. Ten of us completed hiking a segment of the Mountain to Sea Trail (MST) in the Blue Ridge Mountains of North Carolina in mid-May, spending the night in inns along the way. The hike started Friday morning from the Doughton Park Visitors Center where, with permission from the rangers, we left our cars. We arranged to have our host for the first night to meet us there to pick up our luggage and ferry them to our motel. With glee we set off with daypacks, personally packed snacks and plenty of water!
This part of the hike combined all the best parts of mountain hiking. The views, fields and forests were magical but there was a sense of a safety net as the parkway was close enough and occasionally accessible to the trail if someone hurt themselves.  (The road noise was minor except for the occasional thunderous roar of a line of Harley Davison motorbikes in May). Using the MST trail guide and markers along the way, we easily followed the trail except for one misstep! Leaving the three sided hut we walked into a gorge, having to ascend a steep incline after realizing our mistake. Note, if you find a sign that reads, "Strenuous Trail" turn around immediately!
It is so cool to walk into the place you are going stop for the night. Laurel Springs is located off the Parkway made up of a small cluster of homes surrounding two motels and two restaurants and a country store owned by the same remarkable family. The Station's Inn Motorcycle Resort lives up to its title! As we entered this little burg, a line of bright, shiny, BIG cycles (BMW's and Harleys) framed the front porch of the 'saloon'. 100 years ago, they could have been horses. The place was hopping at 5 PM on a Friday night but we had no trouble finding thirst-quenching beverages at Freeborne's Eatery, after our 12 mile hike. Later in the evening we enjoyed a great dinner in the same establishment followed by some dancing to our selections on the jukebox.
The Station's Inn Motorcycle Resort was clean and quiet. We all decided that we were in the midst of Americana alà the 1950s and loved every bit of it!
Saturday it was off to Glendale Springs through the sun-dappled forest. Not even a thunderstorm halted our efforts.  Our lunch was an amazing boxed lunch from our host at Station's Inn.  This section parallels the Parkway weaving into the woods for a while and then back to the parkway's shoulder for a bit. After 7 hours, we opted to walk the Blue Ridge Parkway the last 1.6 miles to the New River Inn & Cabins. After walking over 16 miles, a shower beckoned, followed by reservations for dinner at the Glendale Springs Inn and Restaurant.
Our second motel provided a great vista and an outdoor patio where we could gather after dinner. Our host, Robert was terrific and accommodating! He ferried one of our hikers who just couldn't walk the extra 1/4 mile to dinner. Did I say that we so enjoyed the low-key, friendly, family experience of motels? Perhaps they should make a comeback!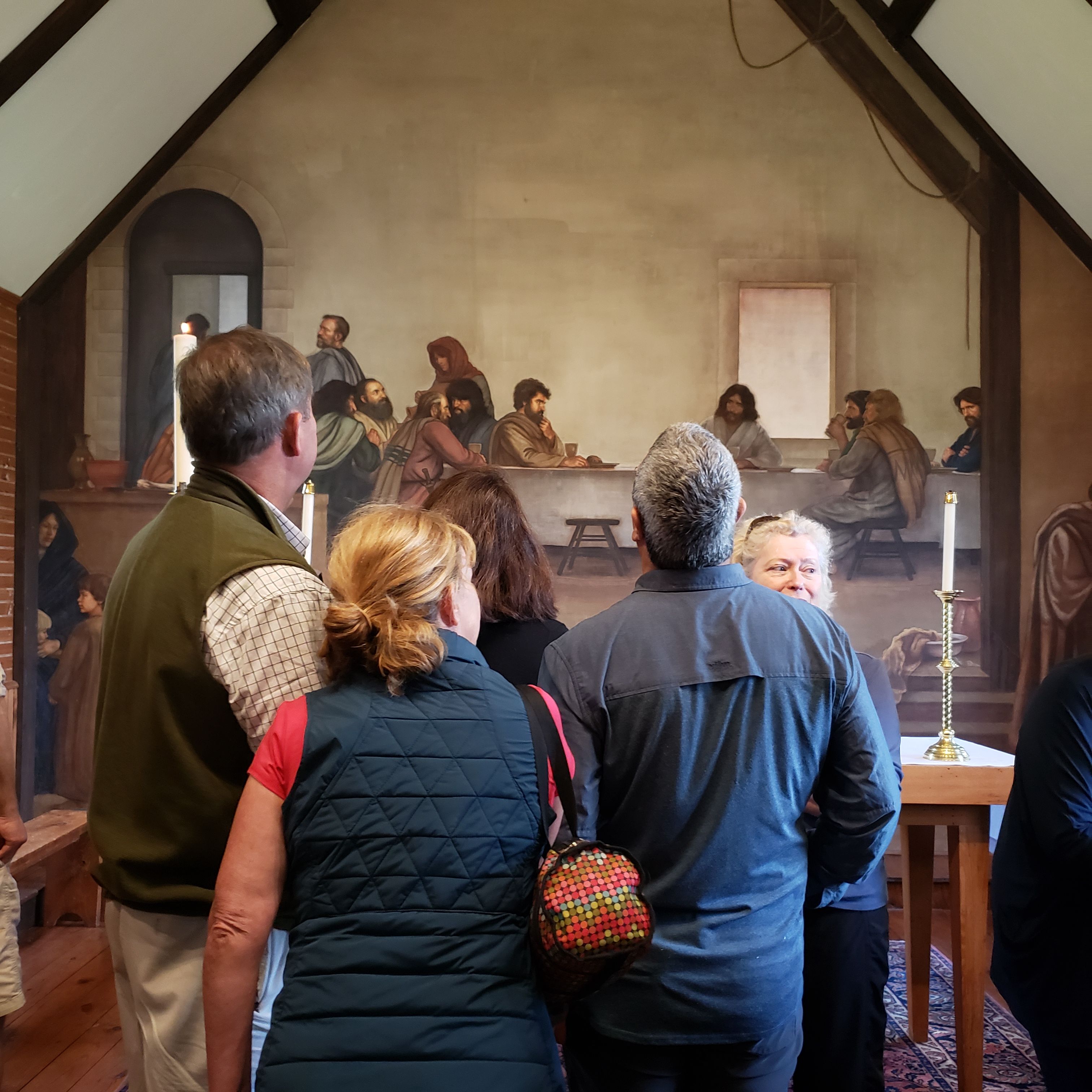 On Sunday, it was a short 1/4 mile walk to the Holy Trinity Episcopal Church service in Glendale Springs. The church's alter is backed by The Last Supper fresco painted in the 1970's by artist Ben Long. We were welcomed by a community of fellow Episcopalians and made to feel like rock stars for our hiking experience. It was a powerful and uplifting ending to a couple of spectacular days.
And if you are thinking that this sounds too difficult of a hike to undertake, think again! The ages of this group was from 54 to 77! The weekend was bookended and interspersed with all the community and social aspects we have come to enjoy as pilgrims abroad. We learned that we didn't have to travel to Spain, Scotland, or Tuscany, Ireland or Israel to find the comradery of a spiritual hike in glorious surroundings.  It exists only a short drive from our homes! Click here to see the itinerary, including all contact information. And click here to watch a short video compiled of pictures from the pilgrimage.
Vistas, forests, fields
Mountains as far as you can see
Sun dancing amidst the forests
Fields of grass rolling like waves in the breeze
Pine enclaves, lady slippers, towering oaks
Gentle ascents, gradual descents
Challenging moments, easygoing paths
Dirt, gravel, macadam pathways
Songbirds and conversation break the quietude.
And we walk!