Buying clothes treated with insect repellent can protect you from insect-borne diseases and also attract funds for Friends of the Mountains-to-Sea Trail thanks to Greensboro-based Insect Shield.  Since 2018, the company has donated 10% of the value of any online purchases of its products by Friends of the MST members, or their friends. To further help the trail and its volunteers, Insect Shield has also been donating the pre-treated shirts and treating the caps given each year to volunteers who work 75 hours or more.
As of July 2021, the donated value of the shirts, treating the caps and share of online purchases has totaled $6860. Betsy Brown, Outreach Manager for the Friends, says "The partnership with Insect Shield is so wonderful; their staff is a joy to work with and they truly appreciate being able to provide treated products for our volunteers to wear when they are out doing trail work and for hikers when they are walking the MST. They know the trail too, being North Carolina-based, so they know what we're up against."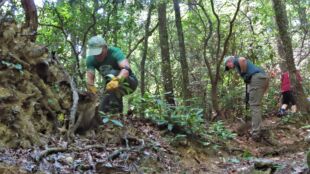 In July 2003, after seven years of testing, Insect Shield introduced the first EPA-registered insect repellent apparel.  Wearing clothing treated with permethrin provides protection against mosquitoes, ticks, ants, flies, chiggers and midges through 70 launderings, according to the company's webpage.
Insect Shield offers apparel for the whole family. Categories include outdoor, pet, workwear, gear and accessories like repellent hats and camping tents, and permethrin spray you can apply to clothing, shoes, backpacks, and other gear yourself. The international company provided treated clothing to several countries at the 2016 Olympics in Rio.
"We share with Friends the goal of encouraging people to get outdoors more," said Jason Griffin, President of Insect Shield International.  "We're pleased to be an MST partner."
"Several of our volunteers and hikers have contracted Alpha-GAL and other tick-borne diseases. We encourage everyone on the trail to protect themselves, and clothing treated with permethrin reduces the likelihood of bites," said Kate Dixon, Friends of the MST's executive director.  "That makes Insect Shield such a good fit.  We invite our members and friends to explore their products and at the same time raise funds for construction and maintenance of the trail."
Use code MOUNTAINSTOSEA when you check out to receive 15% off your first purchase. Whenever you purchase using the link, 10% of your purchase price will be donated to Friends of the MST. (The offer excludes flame resistant clothing and sale items.)
This includes Insect Shield's "Treat Your Own Clothes" service. Send your clothes to them and they will treat them with permethrin repellent.
To shop now, click here or use this link: https://www.insectshield.com/?ref=mountainstoseatrail
Photo Credit: Don Williams; Central Blue Ridge Task Force wearing Insect Shield treated volunteer shirts