Over the past four decades of volunteer citizen efforts to create a trail from the mountains to the coast of North Carolina, few individuals are as revered as Bob Benner.  Sadly, Bob passed away on December 4, 2019 in Morganton at the age of 89 from ALS.
Bob was widely known for his dedication as an outdoor adventure educator and whitewater canoeing guidebook author and co-author (with his son David).  From the moment he arrived in North Carolina in the early 1970's he was engaged in all manner of regional and statewide conservation initiatives—including planning, locating and building a major segment of the Mountains -to-Sea Trail.
Bob Benner was the founding leader of the Central Blue Ridge Task Force and served in that capacity until 2009.  His influence on the trail route location was pivotal as he undertook to take the trail off the Blue Ridge Parkway corridor for 75 miles from Mount Mitchell, through Pisgah National Forest and Linville Gorge Wilderness to Grandfather Mountain.  This area is renowned for its remote, wild character including major cliffs, waterfalls rushing streams and breath-taking vistas.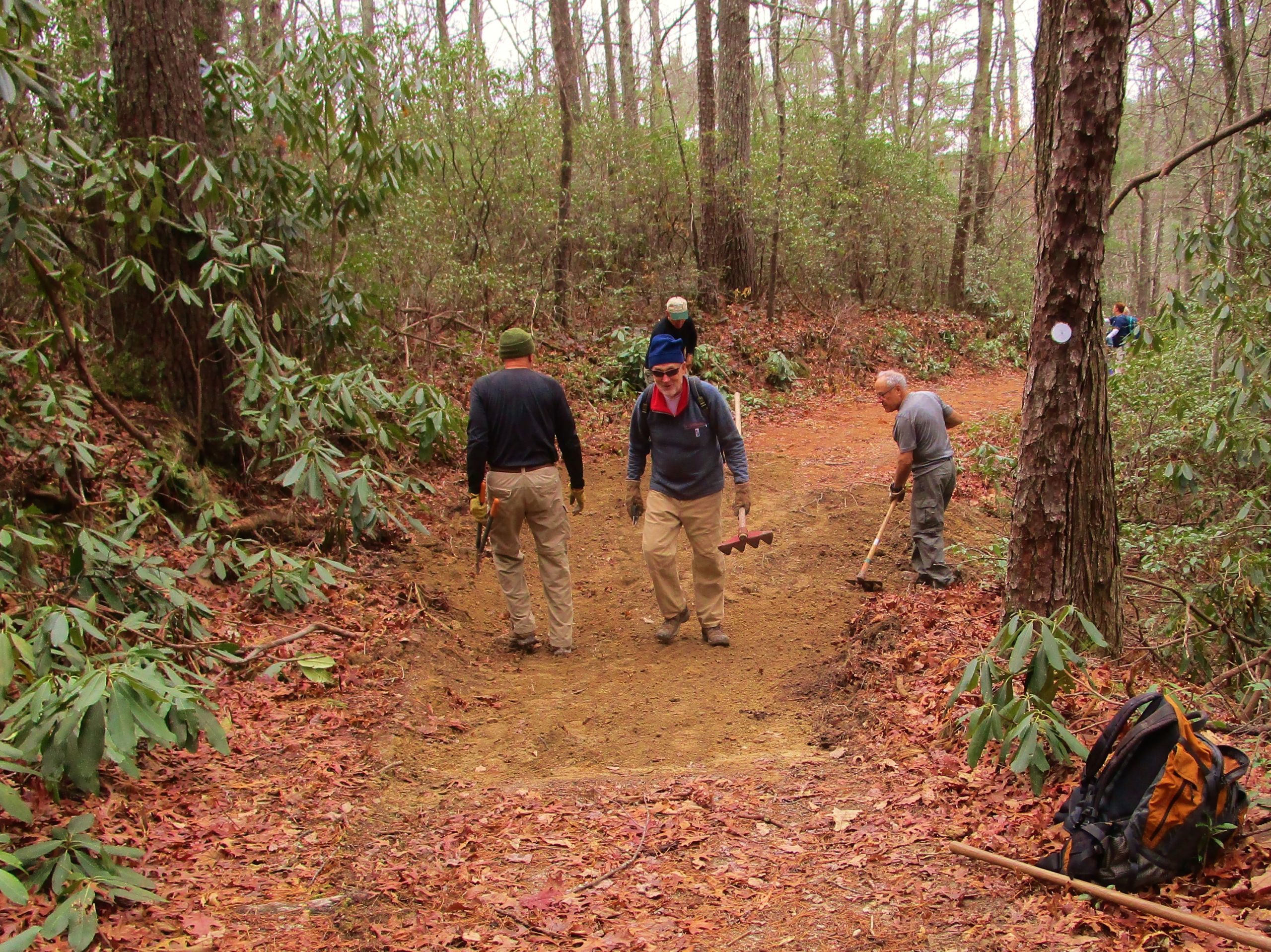 Bob's volunteer trail crews bushwhacked through steep rhododendron thickets for miles scouting out the most scenic, physically challenging route for the trail.  The rigors of hauling heavy tools, chainsaws and timbers would have defeated lesser pioneers under wavering leadership.  However, Doug Veazey recalls how Bob never wavered and took joy in suggesting, "let's just go a little way over there" to search out an alternate route or special natural feature.  The adventures that ensued are legend, with Bob never admitting being lost!
Bob's heart for adventure and love of likeminded companions is evident in this acknowledgment from one of his canoe guides, as he thanks "all the many friends for joining in 'interesting' exploratory trips, undoubtedly questioning the advisability of the friendship at times when such trips turned into hikes down dry stream beds, ice breakers, and major engineering feats—but always turned into memorable outings.  We have all followed the wild goose and hopefully are the better for having done so."
I recently wrote to Bob congratulating him upon receiving a plaque recognizing his service to the MST:
"God bless you Bob! Well deserved honor for one of the most honorable people I know.  You always lead us to the right path.  You never take the easy way out. You navigate artful passages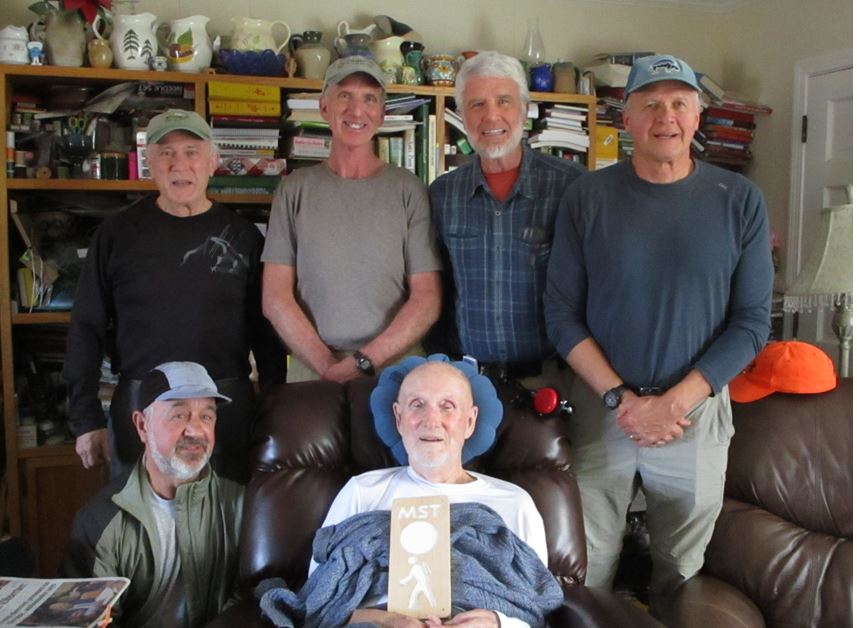 through impossible obstacles and rapids. You even make us believe that we lesser mortals can succeed too; if we just follow the line, paddle with strength and fortitude while enjoying the ride… whooping and laughing with sheer joy at the thrill of it all!  Oh, the adventures and adventurers you, your family and buddies have spawned.  May the echoes of people, young and old, whooping and laughing, splashing and tramping rise always from the trails you have built and the rivers you have run."
To commemorate Bob's legacy for North Carolina trails and rivers, his wife, Donna, has requested that we keep their families in our prayers and paddle or take a hike in his memory.
So, as Bob loved to do, get out there! Take joy in the open trail. Give thanks for all the volunteers who make your hike possible.  Whoop and laugh and splash all you want. And share your reflections, photos and memories of Bob with the Friends of the Mountains-to-Sea Trail!
Jim Hallsey
December 2019
Jim Hallsey worked with Bob Benner since the trail's inception, when Jim was the State Trails Coordinator tasked with plotting the original route of the MST.  They served together on the Friends' board and were fellow task force leaders.
Photos: Top photo – courtesy of Donnie Williams. Donnie and Doug Veazey recollect that on this very warm workday in April of 2013 on Shortoff Mountain that Bob actually painted the post and then they carried it in 2.5 miles to erect. Unfortunately someone pulled it up about 8 months later and carried off about 1/4 mile and threw in creek.  It was found, and re-installed.
Trail workday – courtesy of Donnie Williams.  This was taken in  December of 2016 on the Steels Creek section of the MST. Bob is in the center. The person with his back to camera is Don Russ. Richard Vitolo is digging, and Bill Williams is in the background.
Visiting with Bob – courtesy of Doug Veazey. Bob is surrounded by his trail crew as they share a small token of gratitude from the Friends of the MST.  Standing in the Back from left are Donnie Williams, Bill Williams, Doug Veazey and Don Russ.  Kneeling on left is Pete Hampson.  Bob is seated.