For the next little while, we'll be sharing MST in a Day moments from each Segment of the trail. We begin at the far western end of the MST, with a hike so nice William Rushin did most of it twice.
Most of the 1,735 hikers and paddlers who participated in Mountains-to-Sea Trail in a Day on Saturday began the day by rising at a civil hour, maybe having a cup of coffee or two, enjoying a leisurely breakfast, driving a modest distance to the trailhead. William Rushin's day Saturday began Thursday.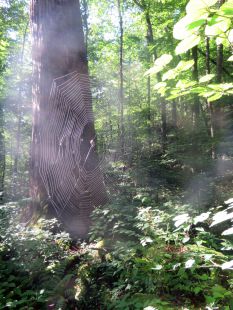 "I actually drove up Thursday evening and parked at Smokemont," says Rushin, who took on legs 1 and 2 of Segment 1A. That's the westernmost end of the MST, from Clingmans Dome east to the Smokemont Campground, 25 miles of Great Smokies hiking, the elevation profile for which resembles a Coney Island rollercoaster. After a short hike in to a backcountry campsite Thursday evening, William woke early Friday and hiked to the trailhead, 6,643-foot Clingmans Dome. "Warm-up hike" to the trailhead: 20.78 miles and 6,442 feet of vertical climbing.
Finally, at 8 a.m. Saturday morning it was time to hike for the record.
"On Saturday morning, I got a beautiful sunrise at Clingmans before setting out at 8 a.m.," William reported. "Beautiful hike down Fork Ridge and along Deep Creek. Got a nice swim in Deep Creek before climbing up Newton Bald. Descended down to Smokemont and finished before dark, at 7:30."
William had some company hiking the 4-mile Leg 1, but was the day's sole representative on the "very strenuous," 21.5-mile Leg 2. Total miles for the day — Day 2 of William's hike — 25.15, according to his Gaia GPS.
If we ever hold an event called 46 miles on the MST in two days, we'll know who to call.