North Fork Reservoir | Photo © Jack Ollis
Between Friday, September 7th and Sunday the 9th get out for a hike on the MST!
Help us collectively accumulate a huge number of miles walking on the MST across North Carolina in celebration of this beautiful trail and those who hike and maintain it.
Walk where you want anywhere on the 1175 miles (or paddle the Neuse or Yadkin sections), when you want during the weekend, with whomever you want – your hiking buddies, troop, congregation, grandkids (it is grandparents weekend, coincidentally!)   This is a great opportunity to introduce a newbie to the MST.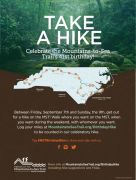 Download this flyer to share with your friends!
After you've hiked, come back to this page, and simply click on the link below to report all the miles you and your hiking partners have completed.  After the weekend is over, we'll share how many miles we hiked together, and any other superlatives that we may achieve over the weekend.
Tag #MSTBirthdayHike to share your day with us.
Trying to decide where to hike?  Last year, when we came together on the MST's 40th birthday and hiked the entire trail in one day, we divided the trail into "legs" – mostly 3 to 5 mile stretches of trail.  We suggest using the legs from our historic hike as a starting point to plan for your hike weekend in 2018.  Click here for those legs – pick a leg for a short hour-long hike,  string together a few legs for a long day hike, tackle more for a whole weekend on the trail.  Download our trail guides to navigate the legs and off you go!  And a gentle reminder, always check the Trail Updates page for the latest updates, corrections, trail conditions or other noteworthy additions before you set out for a day on the MST.
Still have questions?  Check here for answers.
Why are we hiking? To celebrate the 41st Birthday of the MST!  Together we are going to log as many miles as we can over the weekend.  After you've hike, come back to this page to report your miles.  You can report miles for your entire group on a very simple form here. After the weekend is over, we'll report back on how many miles we hiked as a group.
When do we hike? Start on the morning of Friday, September 7th and finish the evening of September 9th.  There is no official time to hike but we suggest daylight hours, mornings are probably going to be cooler, and we don't want folks getting caught by darkness, unless that's your thing!  Always abide by the rules set by the land manager for the section of trail that you are hiking.
Who is leading the hike? You are. These are not guided or organized hikes but if you feel insecure, find a hiking partner.  This is a great time to gather your friends, congregations, neighbors, families, grandkids (it is Grandparents Day on the 9th, coincidentally), troops, whomever to explore the trail together.
How do I get back to my car? Uber may be available but don't bet on it. Otherwise, you have two options. One, you can walk back. Two, you can set up a shuttle with a fellow hiker. The best way to set a shuttle is to find trailheads at either end of your hike on our Google Interactive Map. (Click the box for parking along the legend and the  map will populate with all the legal parking spots.) You can also use the trail guides to find parking information. Park one car at one end, then drive together to the other end and hike back to the first car. And then drive back to the other car.  Voila!
What if it rains? You will get wet but the hike goes on. Check the weather and take precautions if there is lightning.
Can I hike the road sections? If you choose to hike the road sections, we welcome you to take in the sights & sounds of North Carolina. For safety, we request no children on the road. Walk facing traffic, on the shoulder & wear bright colors. The road may be sunny so wear your hat, use sunscreen, spray insect repellent.
Do you want my pictures from my hike? You bet. Use the hashtag #MSTBirthdayHike on Facebook and Twitter to share your photos from the day.
What is the registration fee? Absolutely nothing! We'll accept birthday gifts to support the MST but there is NO entry fee.  If you'd like to donate, you'll make the trail very happy on it's 41st birthday!   You can mail a check to Friends of the MST, PO Box 10431, Raleigh, NC 27605.  You can click the orange Donate button on the top of this website page or you can donate through our Facebook page by clicking on Donate, the blue button under the header picture.
Can I bring friends and family? You bet! The more the merrier.  We've even got a flyer you can download to help recruit your hiking posse.  Get that here!