STEP 1: Choose the way you want to hike (guided hike in a trail town, 42-Mile Challenge or hike on your own) and register
Donations welcome! While the hike is free, we encourage you to buy a shirt and make a gift to help Friends of the MST build, protect and promote the trail for you and others to enjoy.
Raise your birthday hat to thank our sponsor Great Outdoor Provision Co.

HIKER RESOURCES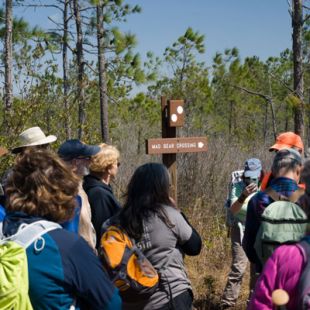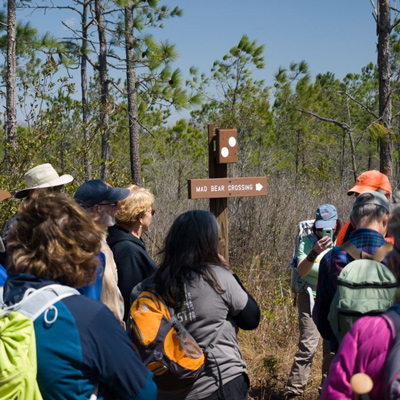 Group Hikes in Trail Towns
MST birthday hikers will conquer new territory with local and knowledgeable guides. We know hikers love to hang around a place and explore so we encourage you to make a weekend of it. Check out the restaurants, breweries, retailers and locals who support the MST in these great trail towns.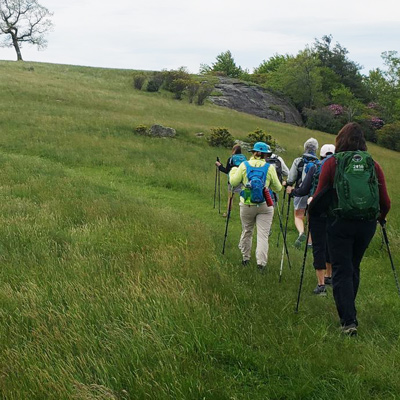 42-Mile Challenge
You like to hike. Bet you like to hike even more when there's a goal. How about the goal of hiking 42 miles in one weekend and raising funds to support your favorite statewide trail? Join GetGoingNC's Joe Miller for MST hikes over the September 6th weekend near Blowing Rock. This will be an adventurous and meaningful way to celebrate the MST's 42nd.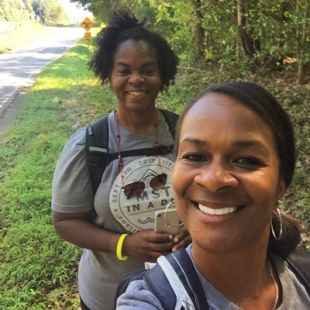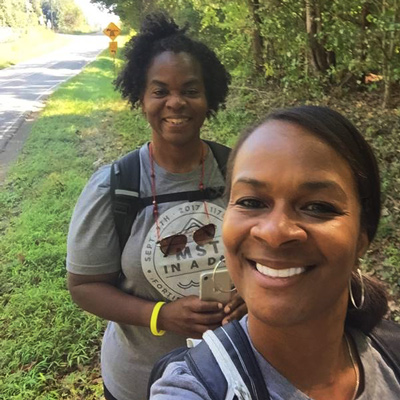 Hike on Your Own
Grab your favorite hiking pals, or better yet, an MST newbie and hike anytime on the trail from September 6 through 8. Go for an epic 20-miler in a faraway segment or a gentle stroll down the trail in your hometown.
Group hikes in trail towns
Choose a hike in one of 27 trail towns – click on the town names or on the map to find out all the hike details and to register. Many of these hikes have limited space, so plan early to avoid disappointment. If you sign up and find later that you are unable to attend, please email Betsy to free up your space.
From Cherokee to Nags Head, you can explore the breadth and diversity of the MST. You will be supported by local guides, many of whom have been involved in the growth of the MST. They will share about why these trail towns are special, divulge their favorite local spots for a view or a beer, and most importantly, keep you from wandering off the trail. We hope you'll enjoy a fun weekend hiking and exploring in one of these towns:
You like to hike. Bet you like to hike even more when there's a goal. How about the goal of hiking 42 miles in one weekend to support and raise funds for your favorite statewide trail?
Here's the plan.
Friday, Sept. 6. On birthday eve — we gather at 6 p.m. at the Julian Price Park Campground on the Blue Ridge Parkway for hors d'oeuvers and to set up camp. We'll get acquainted and discuss Saturday's hike, then hit the hay early for our big weekend of hiking.
Saturday, Sept. 7. Breakfast is at 7. At 7:45, we'll drive to the Osborne Mountain Overlook and be on the trail by 8 a.m. for the 21.9-mile hike on the MST back to the campground. Faster hikers should get back to camp at 4-4:30, more leisurely hikers around 6 p.m. There's a good mix of hiking on Saturday, with more challenging passages offset by flat runs that let you get your legs back. The last stretch takes you on the carriage trails of Moses H. Cone Park. Dinner is on your own, before lights out at 9 p.m.
Sunday, Sept. 8. Breakfast is again at 7. We'll break camp and be on the road to set our shuttle by 8. We begin the day at South Laurel Fork Road and the BRP and hike south. We hike through meadows, we hit overlooks, we have some moderate climbs near the end. Expect to finish up between 5 and 6 p.m.
The deal:
To participate: we ask that you raise $10 for every mile you hike, for a total of $420. Get your hiking friends to support you (better still, get them to join you), get your non-hiking friends to support you by offering to take them for an introductory hike on the MST, get your friends and family who don't believe you could hike 42 miles in a weekend to support you. You'll be surprised at how quickly you'll meet your goal.
What you get:
Camping at Julian Price Park Campground
Breakfast both mornings
Trail snacks
Swag TBD
Guest star in our 42 second video on the hike (Note: participants in the Witness Protection Program may be excluded from this offer)
There are a few options for fundraising.
1 – Write a check directly to Friends of the MST, and note what the funds are for.  You can gather donations and then write us one check.
2 – Have friends make donations through our donation portal.   (https://donatenow.networkforgood.org/1439213)  There is a spot that states:  "If you have a special purpose for your donation, please let us know. I want my donation to be dedicated:"  Have them enter your name and 42-Mile Challenge.
3 – You can set up a fundraiser through Facebook.  Use this link to do so. (https://www.facebook.com/fund/Mountains-to-Sea-Trail-144643271890/)  The steps are quite simple and you are welcome to use any verbiage from our website to talk about why you are raising funds for the MST.
Once you register, we will send you additional information about the hike. The $420 fundraising goal must be met by Aug. 30.
Want to set out on your own, rather than tackle the 42-Mile Challenge or explore a trail town, go for it! We suggest grabbing your favorite hiking pals, or better yet, an MST newbie and hike anytime on the trail from September 6 through 8. Go for an epic 20-miler in a far away segment or a gentle stroll down the trail in your hometown.
When you've finished your hike, let us know how it went. We love hearing from folks across the trail, especially tales from one single weekend. You can fill out this super easy form to report back about your time on the trail.
Don't know where to hike? Check out the trail segments page for an overview of the trail. Once you click on a segment page, you can also download the trail guide for that segment to find trailheads, camping locations, water sources and pretty much everything else you need to know for a successful hike.
Sign up to receive reminders about Hiking on your Own
This is the third year we've celebrated the MST with a weekend of hiking. We hope you'll make an annual tradition of celebrating the MST!
MST Birthday Hike Photo Contest
We'd love to see the MST through your eyes and lens!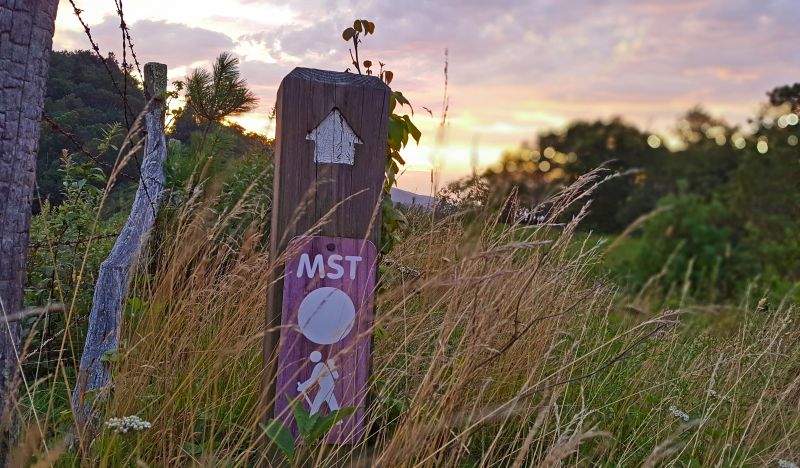 Photo © Tracy Brown/Blowing Rock
Share your hike and town photos from the MST Birthday Hike Weekend and you could win a Great Outdoor Provision Co. gift certificate. Top photo in each category receives a $50 gift certificate, and two others will receive $25 certificates.
Simply share photos on Facebook or Instagram using the hashtag #MSTbirthday and either #MSTtown or #MSTspirit to denote which category you wish to submit the photo for. We'll cull through the online photos and award prizes to the best shots. Don't forget to tag your hiking buddies too!
Awards will be given in these three categories:
Trail Towns: with 33 group hikes in 27 trail towns, capture the essence of these special places. (#trailtown)
Spirit of the MST: what exemplifies the spirit of the MST to you? The people, the path, or the bears? (#MSTSpirit)
Judge's Choice: our judge, Boone-based MST hiker and professional photographer Adam Collins, will pick the shots that speak to him. Check out his website for some inspiration – wacphotography.com. (no special hashtag needed for this category – will pick from all photos submitted with #MSTbirthday tag)
If you do not have a social media account, you may email photos to info@mountainstoseatrail.org to be included in the contest.
Photos should be taken from Friday September 6th through Sunday September 8th and posted to social media (or emailed in) by Friday September 13th.
Winners will be notified within two weeks after the contest closes.